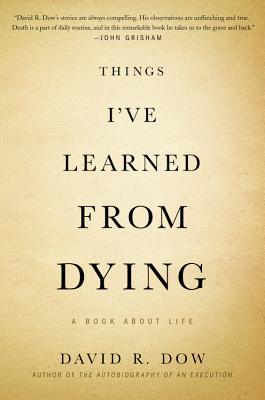 Things I've Learned from Dying: A Book about Life (Hardcover)
A Book about Life
Grand Central Press, 9781455575244, 273pp.
Publication Date: January 7, 2014
Description
""Every life is different, but every death is the same. We live with others. We die alone."" "
" ""In his riveting, artfully written memoir "The Autobiography of an Execution," David Dow enraptured readers with a searing and frank exploration of his work defending inmates on death row. But when Dow's father-in-law receives his own death sentence in the form of terminal cancer, and his gentle dog Winona suffers acute liver failure, the author is forced to reconcile with death in a far more personal way, both as a son and as a father.
Told through the disparate lenses of the legal battles he's spent a career fighting, and the intimate confrontations with death each family faces at home, THINGS I'VE LEARNED FROM DYING offers a poignant and lyrical account of how illness and loss can ravage a family. Full of grace and intelligence, Dow offers readers hope without cliche and reaffirms our basic human needs for acceptance and love by giving voice to the anguish we all face--as parents, as children, as partners, as friends--when our loved ones die tragically, and far too soon.
About the Author
David R. Dow is professor of law at the University of Houston Law Center and an internationally recognized figure in the fight against the death penalty. Nominated for a National Book Critics Circle Award for "The Autobiography of an Execution," he is also the founder and director of the Texas Innocence Network and has represented more than one hundred death row inmates in their state and federal appeals. He lives in Houston, Texas.
Praise For Things I've Learned from Dying: A Book about Life…
"David R. Dow's stories are always compelling. His observations are unflinching and true. Death is a part of daily routine, and in this remarkable book he takes us to the grave and back."
-John Grisham

"David Dow is a lawyer who writes like an angel."
-Steve Weinberg, Dallas Morning News

"He is a gifted storyteller. And regardless of your opinion on the death penalty, he sounds like good company."
-St. Louis Post-Dispatch


"Gracefully told.... Dow weaves elegantly each person's story into a colorful and emotionally wrenching narrative that covers his fiercely honest struggle to make sense of life and death."
-Publishers Weekly, starred review

"Dow's lyrically written prose shimmers as he traces life's final moments for his death-row client, father-in-law, and dog Winona. Its exploration of the elusive line between life and death will leave readers speechless."
-Library Journal

"Sooner or later, death touches every life. Sometimes, though, it comes in legions. This is the story of a death penalty lawyer from Texas who simultaneously watched his father-in-law die of cancer and defended a convicted murderer who didn't deserve to be executed. Few of us can begin to imagine such a shattering coincidence, and fewer still could ever hope to come to terms with it. But David R. Dow did, and has now written a profoundly poignant, singularly wise memoir of his experience. In the midst of death he was-and is-in life."
-Terry Teachout, drama critic, Wall Street Journal

"In clear, powerful prose, David R. Dow reminds us of an essential truth: that human life remains cheap to the state, and for the rest of us, it is precious, momentary, and wholly fulfilling when embraced."
-Bryan Mealer, author of Muck City, All Things Must Fight to Live, and the New York Times bestseller The Boy Who Harnessed the Wind

"David R. Dow has delivered a profound and penetrating meditation on the end of life-through the deaths of his father-in-law to cancer, a death row inmate he was representing to lethal injection, and his family's beloved dog to liver failure. The writing is clear-eyed and intimate, as he exquisitely weaves the stories of these staggering losses together. Better still, along the way he reveals the lessons for living that come from them."
-Dick Lehr, author of Whitey, the Boston Globe bestseller The Fence, and the New York Times bestseller and Edgar Award-winning Black Mass

"In terse, spare prose, David Dow mines the shadows between dying and death, work and family, law and justice, love and pain. A stunning meditation on all the ways in which irreversible endings can make us whole."
-Dahlia Lithwick, Supreme Court correspondent, Slate.com

PRAISE FOR THE AUTOBIOGRAPHY OF AN EXECUTION
"David Dow's extraordinary memoir lifts the veil on the real world of representing defendants on death row. It will stay with me a long time."

-Jeffrey Toobin, author of The Nin

"Powerful . . . a brilliant, heartrending book."
-New York Times Book Review

"His prose is captivating."
-Christian Science Monitor

"Chilling . . . authentic and heartfelt . . . He will transfix you."
-Los Angeles Times

"A riveting and compelling account of a Texas execution written and narrated by a lawyer in the thick of the last minute chaos. It should be read by all those who support state sponsored killing."
-John Grisham, author of The Innocent Man
Advertisement