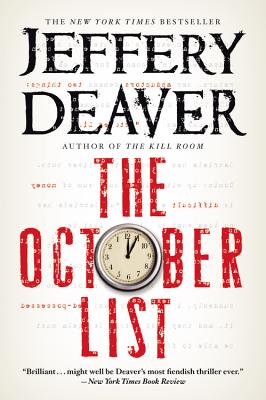 The October List (Paperback)
Grand Central Publishing, 9781455576678, 335pp.
Publication Date: August 5, 2014
* Individual store prices may vary.
Description
One of Kirkus Review's "Best Books of 2013"
The shocking end is only the beginning . . .
#1 bestselling author Jeffery Deaver has created the most riveting and original novel of the year-a race-against-the-clock mystery, told in reverse.
THE OCTOBER LIST
Gabriela waits desperately for news of her abducted daughter.
At last, the door opens.
But it's not the negotiators. It's not the FBI.
It's the kidnapper.
And he has a gun.
How did it come to this?
Two days ago, Gabriela's life was normal. Then, out of the blue, she gets word that her six-year-old daughter has been taken. She's given an ultimatum: pay half a million dollars and find a mysterious document known as the "October List" within 30 hours, or she'll never see her child again.
A mind-bending novel with twists and turns that unfold from its dramatic climax back to its surprising beginning, THE OCTOBER LIST is Jeffery Deaver at his masterful, inventive best.

About the Author
Jeffery Deaver is the #1 international bestselling author of more than thirty novels, three collections of short stories, and a nonfiction law book. His books are sold in 150 countries and translated into 25 languages. His first novel featuring Lincoln Rhyme, The Bone Collector, was made into a major motion picture starring Denzel Washington and Angelina Jolie. He's received or been shortlisted for a number of awards around the world. A former journalist, folksinger, and attorney, he was born outside of Chicago and has a bachelor of journalism degree from the University of Missouri and a law degree from Fordham University. You can visit his website at www.JefferyDeaver.com.
Praise For The October List…
"Might well be Deaver's most fiendish thriller ever...as the pace quickens and the story continues to backtrack, solid evidence, established plot points and sturdily built characters all begin to come undone, until what started out as an interactive game becomes a truly unnerving exercise in deception."—New York Times Book Review

"Don't skip ahead to the beginning and spoil the fun that's guaranteed for anyone interested in a thriller that forces readers to use their brains in a creative way...Deaver is a master of manipulation and "The October List" is a small but powerful book."—Associated Press

"Thriller Award-winner Deaver (Edge) delivers a clever, demanding stand-alone...As the ingenious plot folds back on itself, the reader has to reevaluate and reinterpret the constantly shifting "facts" in the case. The finished picture finally emerges with a shock of recognition. This is brilliant craftsmanship in a vastly entertaining package."—Publishers Weekly (STARRED REVIEW)

"Elegantly clever...The novel takes a mischievous delight in misleading the reader, without ever outright cheating. It offers a delightful game of wits with the author."—The Columbus Dispatch

"Perhaps the cleverest of all Deaver's exceptionally clever thrillers. If you've ever wished you could take the film Memento to the beach, here's your chance."—Kirkus (STARRED review / "Best Book of 2013" )

"The premise is clever, but Deaver's ability to execute it successfully makes this experimental novel even more impressive. Revealing the ending first, he still manages to surprise with a few twists, constantly challenging readers' understanding of the story. Read it backward, forward, once or twice, to see how all the pieces fit together--just be sure to chase down this List yourself."—Shelf Awareness