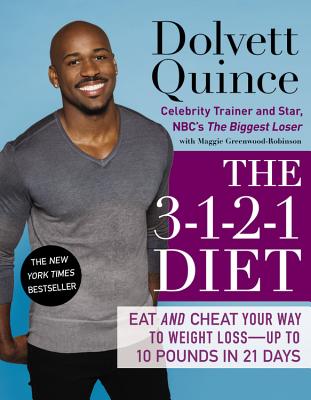 The 3-1-2-1 Diet
Eat and Cheat Your Way to Weight Loss--up to 10 Pounds in 21 Days
Paperback

* Individual store prices may vary.
Other Editions of This Title:
Hardcover (11/12/2013)
Description
"Dolvett offers a dieting trifecta: easy, effective, and friendly to cheaters. He helps trick your metabolism into cooperating with his rapid weight loss formula for success." --Mehmet Oz, M.D.

Want to finally lose the weight and keep it off? Want to be able to eat the foods you love? Reaching your goals can only happen when you don't feel deprived and you continue to stay motivated. Now, celebrity trainer and star of the hit reality series The Biggest Loser, Dolvett Quince, tells you how to do all of that and more in his revolutionary program, The 3-1-2-1 Diet.

This 21-day program works by manipulating your body's natural tendency to slow its metabolic rate in response to calorie restriction. It takes a new approach to getting lean-one scientifically based on changing up food and calories to tap into your body's potential to burn fat. This unconventional plan results in greater muscle and less fat than any other diet you've ever tried.

Dolvett's effective eating plan is as easy as 3-1-2-1: three days of clean eating, one day of cheating, two more days of clean eating, and one final reward meal at the end of the week. No foods are off limits and you will never feel deprived because the plan is flexible enough to fit into any lifestyle. You'll lose weight fast-10 pounds or more in just 21 days-and you won't plateau.
Dolvett's simple meal plans and delicious, easy-to-prepare recipes, together with his fast and effective workouts that combine cardio and body-shaping moves, will have you back in your skinny jeans in less than three weeks!
Grand Central Life & Style, 9781455576708, 320pp.
Publication Date: December 30, 2014
About the Author
Dolvett Quince is a veteran health and fitness expert and one of the trainers on The Biggest Loser. In 2004, he opened his first Body Sculptor Fitness Studio in Atlanta and has built it into the city's premiere health and fitness center. His business attracts such clients as Angela Bassett, Baltimore Ravens tight-end Daniel Wilcox, singer-songwriter JoJo, and world-pop sensation Justin Bieber. He also developed the renowned Me and My Chair Workout DVD.