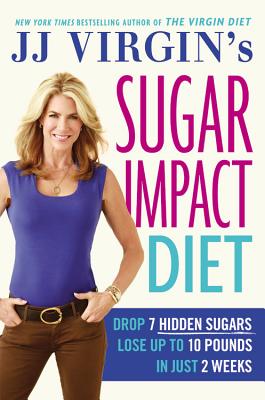 JJ Virgin's Sugar Impact Diet (Hardcover)
Drop 7 Hidden Sugars, Lose Up to 10 Pounds in Just 2 Weeks
Grand Central Life & Style, 9781455577842, 368pp.
Publication Date: November 4, 2014
Other Editions of This Title:
Digital Audiobook (11/3/2014)
Paperback (9/4/2018)
Paperback (12/27/2016)
Hardcover (5/26/2015)
CD-Audio (11/4/2014)
* Individual store prices may vary.
Description
From New York Times bestselling author of THE VIRGIN DIET comes a groundbreaking program that will revolutionize the way readers think about sugar and help you drop fat fast--up to 10 pounds in just two weeks!
NEW YORK TIMES BESTSELLER
If you're eating healthy, but just can't seem to lose weight, you're not alone. Sugar is the single biggest needle mover when it comes to your health and the number on the scale, but sugar hides in places you'd never expect: whole foods, diet foods, packaged foods, dressings . . . even sugar substitutes. And it's not enough to cut out or cut back on sugar-you have to cut out the right kinds of sugar.
In this groundbreaking book, New York Times bestselling author JJ Virgin explains the powerful concept of Sugar Impact: how different sugars react differently in the body. High Sugar Impact foods cause weight gain, energy crashes, and inflammation. Low Sugar Impact foods fuel your body for prolonged energy and promote fat burning. This eye-opening book pinpoints the most damaging sugars that we eat every day-without even realizing it-in common foods like skim milk, diet soda, whole-grain bread, and "healthy" sweeteners like agave.
By swapping High Sugar Impact foods for Low Sugar Impact foods, you will shed fat fast--up to 10 pounds in 2 weeks!--and transform your body and your health for good. Best of all, you don't need to eliminate sugar completely or count calories. Prepare to:
Lose the bloat
Target belly fat
Rev your metabolism
Cut cravings
Become a fat burner, not a sugar burner
Lose fat fast-and forever!
About the Author
JJ Virgin, CNS, CHFS is the New York Times bestselling author of The Virgin Diet and The Virgin Diet Cookbook. An internationally recognized expert in weight loss, Virgin has appeared on The Doctors, the Rachael Ray Show and Today, among many other programs, and blogs frequently for the Huffington Post, Prevention magazine, and Livestrong.com.
Praise For JJ Virgin's Sugar Impact Diet: Drop 7 Hidden Sugars, Lose Up to 10 Pounds in Just 2 Weeks…
"
JJ Virgin's Sugar Impact Diet
can help save your brain and your life. Numerous studies show that sugar can be addictive and pro-inflammatory and lead to a number of devastating illnesses. If you want a better brain, I highly recommend this book."—
Daniel G. Amen, MD, New York Times bestselling author of Change Your Brain, Change Your Life
"Opens your eyes to how much sugar you're really eating, and provides an actionable plan to cut down on the sweet stuff and feel better fast."—
Mark Hyman, MD, author of the #1 New York Times bestseller The Blood Sugar Solution 10 Day Detox Diet
"In line with leading-edge science, JJ Virgin presents a radical and empowering new way to look at sugar."—
David Perlmutter, MD, FACN, #1 New York Times bestselling author of Grain Brain
"Breaks through the myths and provides a clear and realistic path to health. This book is life changing!"—
Cynthia Pasquella, CCN, author of P.I.N.K. Method and The Hungry Hottie Cookbook, and founder of the Institute of Transformational Nutrition
"Follow JJ Virgin's advice if you want to live longer, feel better, and be more vibrant. You will
never
look at sugar the same way again."—
Tara Amen, BSN, RN, New York Times bestselling author of The Omni Diet
"In her newest book, JJ Virgin's Sugar Impact Diet, author JJ Virgin takes no prisoners. She delivers a hard-hitting, no-holds-barred, crystal clear message on how to identify and eliminate the astounding and myriad forms sugars have taken in our diets. Follow her advice and you will discover answers to why weight and healthy can prove so elusive despite the best intentions."
--William Davis, MD, #1 New York Times bestselling author of Wheat Belly, Wheat Belly Cookbook, and Wheat Belly 30-Minute (or Less!) Cookbook