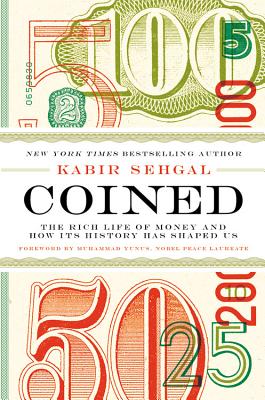 Coined
The Rich Life of Money and How Its History Has Shaped Us
Hardcover

* Individual store prices may vary.
Other Editions of This Title:
Digital Audiobook (3/9/2015)
Paperback (3/6/2018)
Compact Disc (3/10/2015)
Compact Disc (3/10/2015)
Description
A New York Times and Wall Street Journal Bestseller

The importance of money in our lives is readily apparent to everyone--rich, poor, and in between. However grudgingly, most of us accept the expression "Money makes the world go round" as a universal truth. We are all aware of the power of money--how it influences our moods, compels us to take risks, and serves as the yardstick of success in societies around the world. Yet because we take the daily reality of money so completely for granted, we seldom question how and why it has come to play such a central role in our lives.

In Coined: The Rich Life of Money And How Its History Has Shaped Us, author Kabir Sehgal casts aside our workaday assumptions about money and takes the reader on a global quest to uncover a deeper understanding of the relationship between money and humankind. More than a mere history of its subject, Coined probes the conceptual origins and evolution of money by examining it through the multiple lenses of disciplines as varied as biology, psychology, anthropology, and theology. Coined is not only a profoundly informative discussion of the concept of money, but it is also an endlessly fascinating and entertaining take on the nature of humanity and the inner workings of the mind.
Praise For Coined: The Rich Life of Money and How Its History Has Shaped Us…
"Kabir Sehgal has done us a great service in writing this book. He has presented in this book everything that money has meant to people over the centuries and with a multidimensional perspective. He has prepared the ground for us to take it forward, to give new meaning to money, to assign it new roles in our lives, and imagine the future of money as a foundation upon which we can build the future of the world we all cherish. Thank you, Kabir."

—
Muhammad Yunus, Nobel Peace Prize Laureate, Founder of Grameen Bank (from foreword)
"
Coined
doesn't resemble any of the usual text books on money. For one thing, it's actually fun to read--and Kabir Sehgal will stimulate your thinking about our financial crisis and banking."—
Paul Volcker, Former Chair of the Federal Reserve
"An exceptional examination of the history of money. Kabir has written an engaging narrative that spans thousands of years and introduces readers to important people who have impacted the chronicle of currency."
—
Jimmy Carter, Former US President
"The best things in life are free, but ever since civilization began money has had a profound impact on humanity. Kabir's book brings the story of currency to life and is worth spending a few of your hard-earned coins on."
—
Sir Richard Branson, Founder, Virgin Group
"Well-written. Clever. Innovative. This amazing book will get you thinking about money in completely new ways. If you want to understand how money has impacted the human condition, for better or worse, and how it will continue to shape our behavior, read this book."

—
Sheila Bair, Former Chair of the Federal Deposit Corporation
"Kabir Sehgal has tackled the topic of money and written a fascinating account that weaves together history, philosophy, and personal anecdotes. He provides insights that are both riveting and thought-provoking."

—
Walter Isaacson, bestselling author of Steve Jobs and President of the Aspen Institute
"
Coined
is a world history of currency that looks at the different forms money takes across time and across cultures. Mr. Sehgal's anecdotes are wide-ranging and include the birth of exchange in the Galapagos Islands; the art sought after by coin collectors in Vietnam; a tour of the Federal Reserve's vaults in New York; and the way bees trade pollen in the hive."—
Bill Clinton, Former US President
"Kabir Sehgal has created an ideal book for anyone interested in understanding how money has impacted our world. His thought provoking and impressive writing style makes this an enjoyable and educational read."

—
William H. Rogers, Chairman & CEO, SunTrust Banks
"Kabir Sehgal takes readers on a wide-ranging, fascinating, and thought-provoking tour of the historical, economic, cultural, religious, political, artistic, neurological and even futuristic story of money. The love of money and credit often results in debt addiction and painful boom and bust cycles. This book will make you ponder what it all means."
—
Anat Admati, George G.C. Parker Professor of Finance and Economics, Stanford Graduate School of Business and author of The Bankers New Clothes: What's Wrong with Banking and What to Do about It
"In perhaps the most fun treatment of Money since the Beatles, Kabir Sehgal takes us on a round-the-globe time-traveling tour of our favorite medium of exchange. After reading
Coined
, you'll never think of those pieces of metal jangling around in your pocket in quite the same way."—
Neil Barofsky, former Inspector General of Troubled Asset Relief Program, and author of Bailout
"Kabir Sehgal is the Stephen Hawking of money: he has taken a hugely complex subject, and explained it in a way that is at once simple, elegant and comprehensive. He explains the invention of money, both specie and fiat currencies, and the social, even biological, problem that is solves. In doing that, he shares great insight into the evolution of markets, of societies, and of governmental forms. This is a masterful book, as enjoyable as it is illuminating."
—
Teresa Barger, CEO and CIO, Cartica Capital
"As the CEO of a public company, it is easy to develop a narrow view of money, as primarily an instrument to measure economic performance. But in
Coined
, Kabir Sehgal gives us a more panoramic look at this absorbing subject. This fresh and captivating book will make us rethink what money is and even how we corporate leaders make financial decisions."—
John Somerhalder II, Chairman & CEO, AGL Resources
"In his excellent book, Kabir Sehgal entices the reader to think differently about money. For the novice, he connects the dots, introducing money from a variety of perspectives: economics, anthropology, history, and even biology. For the academic expert, he provides a powerful antidote to the conventional view that money is simply a handy medium of exchange. By emphasizing the link between money and obligations, Sehgal develops a deeper understanding of the nature of the most important institution in our modern economy."

—
L. Randall Wray, Professor, Economics, University of Missouri-Kansas City and author of Modern Money Theory
"Money talks! Money started with trading shells and now it moves around the world like sand. We are about to go through a change in money that will make it as liquid as water. Behold Bitcoin. This book takes you through money, its history and its future. Kabir is brilliant. Read it and get liquid."

—
Timothy Draper, Founding Partner, Draper Fisher Jurvetson
"Kabir Sehgal brings a much needed voice to the conversation about the role of money and meaning in our lives. This is a necessary and transformative read that you won't want to put down."

—
Adam Braun, New York Times bestselling author and Founder of Pencils of Promise
"
Coined
is an enthralling, illuminating, page-turner of a character study about money and the way it has impacted humanity. Through his kaleidoscopic analysis of money through the ages and across the globe, Kabir Sehgal provides a highly original vision of money that transcends its value as a means of exchange and redefines it as a reflection of our minds, bodies and spirits. His warning call to consider the risks societies face as they move from hard to soft (and increasingly electronic and invisible) money resonate particularly strongly in these tumultuous times."—
Nomi Prins, Author of All the Presidents' Bankers and Senior Fellow at Demos
"Kabir Sehgal offers a lively pastiche evoking money's many roles in our world. Instead of asking only
how
about each one, he refreshingly asks
why
."—
Daniel Altman, author of the international bestseller Outrageous Fortunes: The Twelve Surprising Trends That Will Reshape the Global Economy
"The exchange of money is perhaps the most universal and permanent, but also living and dynamic, human practice. With wide-ranging insights from anthropology to chemistry, the Akkadian Empire to Bitcoin, Sehgal deftly tells the past, present--and most importantly, the future--of money."

—
Dr. Parag Khanna, Senior Fellow, New America Foundation, and author of The Second World and How to Run the World
"
Coined
is a difficult book to put down because almost every page contains history, facts, and stories about the world's economic growth, which will astound the reader. As we read the book, we became more aware of how different parts of the world adopted a monetary system. We enjoyed the many fantastic and revealing anecdotes within the text. So many interesting and entertaining facts about money have not appeared before in one volume. If you like knowing more about money and numismatics, might we suggest that 'you buy the book before you buy the coin.'"—
Harvey G. Stack & Lawrence R. Stack, Founders, Stack's Bowers Rare Coins
"Fascinating. Kabir Sehgal's
Coined
is a more than just a lively history of money, it is a richly rewarding excursion into the meaning of money."—
David Tripp, award winning author of Illegal Tender, and former member of the Citizens Coinage Advisory Committee
"Numismatists study rare coins, often very carefully under magnification. Kabir Sehgal's book will be a great addition to any collector's library as it tells the place that coins and other monetary instruments have in world history--a rich panorama of events."
—
David Bowers, Chairman Emeritus of Stack's Bowers Galleries; Former President, Professional Numismatists Guild; Former President, American Numismatic Association
"Kabir Sehgal succeeds where most have failed. In a world where central banks have been printing record amounts of money only to find that money does not buy real growth and prosperity, Kabir re-creates true value, meaning and power that money has for our communities, nations and all humankind. This is a must read for anybody with a savings account or a credit card."

—
Jesper Koll, Managing Director, Head of Japan Research, J.P. Morgan
"Money, while defining so much of our lives, remains a taboo for discussion and a great mystery for many.
Coined
provides a beautiful window into the history of money, its influence on the world around us, and even how our minds process it. Kabir does a great job of taking us on a fun and engaging ride through a topic that deserves much more consideration and thought."—
Jeff Rosenthal, Co-Founder & Curator, Summit
"Coined is that rare book indeed-a fun romp through the history of human exchange, taking up the subject of money in its physical, psychological, philosophical, and historical fills. Like Salt, the topic serves not as a lens that narrows, but as a backdrop for a panoramic viewpoint, sparkling writing, and an exploration of a world you may never have known existed."
—
Rachel Kleinfield, Senior Associate, Carnegie Endowment for International Peace
"Money jingles, jangles, confuses and betrays us. Readers will be surprised and charmed by Kabir Sehgal's far-flung and fascinating search for the root of money and the spell it weaves around us."
—
Todd G. Buchholz, former White House economic adviser and author of New Ideas from Dead Economists
"A lively account with an unconventional viewpoint."
—
Kirkus
"Sehgal is a tireless and eloquent guide, and knows just how long to stay at each stop."
—
Financial Times
"If you've been waiting for an economic version of
Eat, Pray, Love,
this may be it."—
The New York Times Book Review
Grand Central Publishing, 9781455578528, 336pp.
Publication Date: March 10, 2015
About the Author
Kabir Sehgal is a New York Times and Wall Street Journal bestselling author of twelve books such as Coined and Jazzocracy. Among his works are six children's books that he has written with his mother such as The Wheels on the Tuk Tuk and A Bucket of Blessings
or
Not Currently Available for Direct Purchase