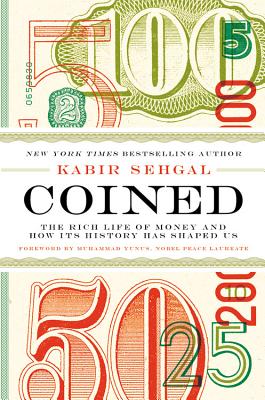 Coined
The Rich Life of Money and How Its History Has Shaped Us
Hardcover

* Individual store prices may vary.
Other Editions of This Title:
Digital Audiobook (3/9/2015)
Compact Disc (3/10/2015)
Compact Disc (3/10/2015)
Description
A New York Times and Wall Street Journal Bestseller

From New York Times bestselling author Kabir Sehgal, an informative, rousing, surprising history of the one thing that makes the world go 'round: money.

The importance of money in our lives is readily apparent to everyone--rich, poor, and in between. However grudgingly, we are all aware of the power of money--how it influences our moods, compels us to take risks, and serves as the yardstick of success in societies around the world. Yet because we take the daily reality of money so completely for granted, we seldom question how and why it has come to play such a central role in our lives.

In Coined: The Rich Life of Money And How Its History Has Shaped Us, author Kabir Sehgal casts aside our workaday assumptions about money and takes the reader on a global quest to uncover a deeper understanding of the relationship between money and humankind. More than a mere history of its subject, Coined probes the conceptual origins and evolution of money by examining it through the multiple lenses of disciplines as varied as biology, psychology, anthropology, and theology. Coined is not only a profoundly informative discussion of the concept of money, but it is also an endlessly fascinating and entertaining take on the nature of humanity and the inner workings of the mind.
Praise For Coined: The Rich Life of Money and How Its History Has Shaped Us…
"Sehgal is a tireless and eloquent guide, and knows just how long to stay at each stop."—Financial Times

"If you've been waiting for an economic version of Eat, Pray, Love, this may be it."—The New York Times Book Review

"An exceptional examination of the history of money. Kabir has written an engaging narrative that spans thousands of years and introduces readers to important people who have impacted the chronicle of currency."—Jimmy Carter, Former US President

"Kabir Sehgal has tackled the topic of money and written a fascinating account that weaves together history, philosophy, and personal anecdotes. He provides insights that are both riveting and thought-provoking."—Walter Isaacson, bestselling author of Steve Jobs and President of the Aspen Institute

"Kabir Sehgal has done us a great service in writing this book. He has presented in this book everything that money has meant to people over the centuries and with a multidimensional perspective. He has prepared the ground for us to take it forward, to give new meaning to money, to assign it new roles in our lives, and imagine the future of money as a foundation upon which we can build the future of the world we all cherish. Thank you, Kabir."—Muhammad Yunus, Nobel Peace Prize Laureate, Founder of Grameen Bank (from foreword)

"Coined doesn't resemble any of the usual text books on money. For one thing, it's actually fun to read--and Kabir Sehgal will stimulate your thinking about our financial crisis and banking."—Paul Volcker, Former Chair of the Federal Reserve

"Coined is a world history of currency that looks at the different forms money takes across time and across cultures. Mr. Sehgal's anecdotes are wide-ranging and include the birth of exchange in the Galapagos Islands; the art sought after by coin collectors in Vietnam; a tour of the Federal Reserve's vaults in New York; and the way bees trade pollen in the hive."—Bill Clinton, Former US President

"The best things in life are free, but ever since civilization began money has had a profound impact on humanity. Kabir's book brings the story of currency to life and is worth spending a few of your hard-earned coins on."—Sir Richard Branson, Founder, Virgin Group

"Well-written. Clever. Innovative. This amazing book will get you thinking about money in completely new ways. If you want to understand how money has impacted the human condition, for better or worse, and how it will continue to shape our behavior, read this book."—Sheila Bair, Former Chair of the Federal Deposit Corporation

"Kabir Sehgal has created an ideal book for anyone interested in understanding how money has impacted our world. His thought provoking and impressive writing style makes this an enjoyable and educational read."—William H. Rogers, Chairman & CEO, SunTrust Banks
Grand Central Publishing, 9781455578528, 336pp.
Publication Date: March 10, 2015
About the Author
Kabir Sehgal is a New York Times and Wall Street Journal bestselling author of twelve books such as Coined and Jazzocracy. Among his works are six children's books that he has written with his mother such as The Wheels on the Tuk Tuk and A Bucket of Blessings