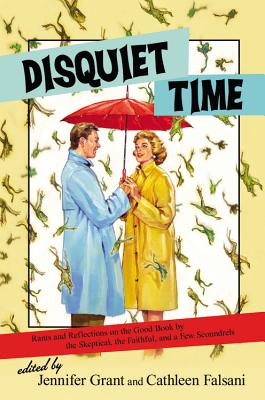 Disquiet Time (Hardcover)
Rants and Reflections on the Good Book by the Skeptical, the Faithful, and a Few Scoundrels
Jericho Books, 9781455578825, 384pp.
Publication Date: October 21, 2014
* Individual store prices may vary.
Description
An engaging and hilarious collection that encourages readers to tackle those strange, awkward, worrying, yet endlessly compelling passages of the Bible.
The Bible is full of not-so-precious moments, from murder and mayhem, to sex and slavery. Now, an incredible cast of contributors tackles the parts of the Bible that most excite, frustrate, or comfort, like:
What the heck is the book of Revelation really about? (The answer will surprise you.)
How do we come to grips with the Bible's troubling (or seemingly troubling) passages about the role of women?
Why did the artist of the oldest known picture of Jesus intentionally paint him with a wonky eye--and what does it tell us about beauty?
DISQUIET TIME was written by and for Bible-loving Christians, agnostics, skeptics, none-of-the-aboves, and people who aren't afraid to dig deep spiritually, ask hard questions, and have some fun along the way.
About the Author
Jennifer Grant
has written numerous columns and feature stories for newspapers including the
Chicago Tribune
and is a regular contributor to
Christianity Today
's her.meneutics blog. Grant is the author of
Love You More
and
MOMumental
. She lives in Chicagoland with her husband and four children.
Cathleen Falsani is an award-winning journalist and author who specializes in the intersection of faith and culture. She was the longtime religion writer and columnist for the Chicago Sun-Times, and has been a columnist for Religion News Service, Sojourners, Huffington Post, and the Orange County Register. She lives in Laguna Beach, California.



Praise For Disquiet Time: Rants and Reflections on the Good Book by the Skeptical, the Faithful, and a Few Scoundrels…
"The writers come from all walks of life-"nonconformists and oddballs"-and approach the Bible in their own idiosyncratic ways. But while the writers may take the Bible seriously, that doesn't mean they can't have fun in the process, for, as the subtitle also suggests, the moods reflected here are often irreverent, even playful."—Booklist

"This is a sturdy book, a thoroughly satisfying and totally credible book. Well-conceived and well executed, it offers honest words about holy things, which means that it is also a brave book. I, for one, am grateful."—Phyllis Tickle, author, The Age of the Spirit

"Cathleen and Jennifer are wonderful writers as well as wonderful people and this collection of wonderful essays is in a word: Lovely. You thought I was going to say 'wonderful,' didn't you? I'm AN ENIGMA!!"—Pete Holmes, Comedian and talk show host

"Disquiet Time takes us down a thrilling, provocative, and often beautiful path that leads to the deepest parts of ourselves, and the deepest parts of Christ. This book is for folks who don't just want to read the Bible; they want to laugh, wrestle and cry with the Bible. And that's just the place God wants us to be."—Joshua DuBois, former head of the White House Office of Faith Based and Neighborhood Partnerships and author of The President's Devotional

"Disquiet Time is a devotional for humans, a daily reading for the messy, doubt-filled, sometimes irreverent people who love God or hope to some day. Though hinged on some of the Bible's most deranged narratives, [the book]...is strangely comforting, a spiritual hodgepodge that is deep and convicting, hopeful and honest, quirky and wise. For believers, cynics, and misfit souls, Disquiet Time is a welcomed invitation to doubt, laugh, fight, debate, and trust."—Matthew Paul Turner, author of Our Great Big American God and Churched

"This rich collection of essays is thoughtful, engaging, and provocative. A must-read."—Margaret Feinberg, author of Wonderstruck
or
Not Currently Available for Direct Purchase