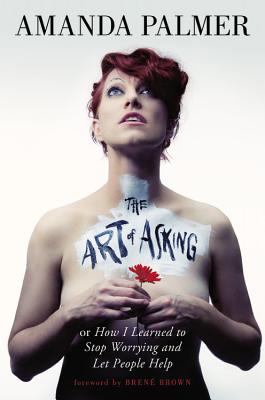 The Art of Asking
How I Learned to Stop Worrying and Let People Help
Hardcover

* Individual store prices may vary.
Other Editions of This Title:
Digital Audiobook (11/10/2014)
Paperback (10/20/2015)
Paperback, Chinese (11/30/2015)
Hardcover (11/11/2014)
Description
Rock star, crowdfunding pioneer, and TED speaker Amanda Palmer knows all about asking. Performing as a living statue in a wedding dress, she wordlessly asked thousands of passersby for their dollars. When she became a singer, songwriter, and musician, she was not afraid to ask her audience to support her as she surfed the crowd (and slept on their couches while touring). And when she left her record label to strike out on her own, she asked her fans to support her in making an album, leading to the world's most successful music Kickstarter.

Even while Amanda is both celebrated and attacked for her fearlessness in asking for help, she finds that there are important things she cannot ask for-as a musician, as a friend, and as a wife. She learns that she isn't alone in this, that so many people are afraid to ask for help, and it paralyzes their lives and relationships. In this groundbreaking book, she explores these barriers in her own life and in the lives of those around her, and discovers the emotional, philosophical, and practical aspects of The Art of Asking.

Part manifesto, part revelation, this is the story of an artist struggling with the new rules of exchange in the twenty-first century, both on and off the Internet. The Art of Asking will inspire readers to rethink their own ideas about asking, giving, art, and love.
Praise For The Art of Asking: How I Learned to Stop Worrying and Let People Help…
"A book unlike any other I've ever read. . . a book I'd have no problem recommending to everyone I know. My mother, my best friend, my work friends, my Facebook friends, my LinkedIn contacts, even the people I meet on the street or see on the subway when I commute to and from work. It's that important and that groundbreaking. This book is not just someone's brave and personal journey from childhood to her life as an artist, but it also addresses why and how it's so hard to look into someone else's eyes and be real, and ask for help when we need it. . . . Palmer has, not to put too fine a point on it, ripped open her chest and exposed her heart for all to see. She's written her truth - and it's at once brutal and gloriously, importantly beautiful."—The Huffington Post

"'The Art of Asking' is a compelling read, easily the most universal work she has ever done."—The Boston Globe

"Much as Anne Lamott offered 'instructions on writing and life' in Bird by Bird, Amanda Palmer will be instructive to anyone who struggles with fear of the 'no.'"—Shelf Awareness

"This is the kind of book that makes you want to call the author up at midnight to whisper, 'My God. I thought I was the only one.'"—Jenny Lawson, the Bloggess and author of Let's Pretend This Never Happened

"To read Amanda Palmer's remarkable memoir about asking and giving is to tumble headlong into her world. At first, you find yourself thinking, 'Goodness, what a crazy world that Amanda Palmer inhabits! How does she possibly endure it?' Then, gradually, as you read along, a doorway opens up in your heart, and you realize, 'I want to live in a world exactly like hers.' God willing, this book will show us all how to do it."—Elizabeth Gilbert, author of Eat, Pray, Love and The Signature of All Things

"Amanda has a direct line with her audience-a lifeline for them and for her, the codependency all truly great performers surrender to . . . She's capable of anything, incapable of telling anything but the truth."
—Bono

"A story about a life in one dollar bills, from statue to icon, where media doesn't matter, crowds do. Mandatory reading in the digital age, for aspiring artists and their doubtful parents."
—Nicholas Negroponte, founder, MIT Media Lab

"Amanda Palmer joyfully shows a generation how to change their lives."—Caitlin Moran, author of How to Be a Woman and How to Build a Girl

"Amanda Palmer's generous work of genius will change the way you think about connection, love, and grace."
—Seth Godin, author of Tribes

"From this beautiful, heart-wrenching story of art comes an incredible account of the nature and future of commerce."
—Lawrence Lessig, author of Free Culture
Grand Central Publishing, 9781455581085, 352pp.
Publication Date: November 11, 2014
About the Author
Amanda Palmer is a world-renowned singer, songwriter, activist, director, and blogger who first came to prominence as one half of the internationally acclaimed punk cabaret duo The Dresden Dolls.

She is a fellow at the Berkman Center for Internet & Society at Harvard University and has shown her underwear on Australian television. She currently avoids living in places including Boston, New York, and Melbourne with her husband, author Neil Gaiman, who is easily embarrassed.

Palmer's TED Talk, "The Art of Asking," which she presented at a 2013 TED conference, has been viewed at least 8 million times around the world. You can visit her website and blog at www.AmandaPalmer.net.