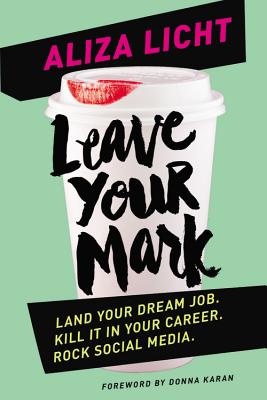 Leave Your Mark (Hardcover)
Land Your Dream Job. Kill It in Your Career. Rock Social Media.
Grand Central Publishing, 9781455584147, 288pp.
Publication Date: May 5, 2015
Other Editions of This Title:
Digital Audiobook (5/4/2015)
Paperback (4/10/2018)
* Individual store prices may vary.
Description
LEAVE YOUR MARK isn't an advice book -- it's a mentorship in 288 pages.


Aliza Licht-global fashion communications executive, AKA fashion's favorite 'PR girl' and former Twitter phenomenon-is here to tell her story, complete with The Devil Wears Prada-like moments and insider secrets.
Drawing invaluable lessons from her experience, Licht shares advice, inspiration, and a healthy dose of real talk in LEAVE YOUR MARK. She delivers personal and professional guidance for people just starting their careers and for people who are well on their way. With a particular emphasis on communicating and building your personal brand, something she knows a thing or two about, Aliza is your sassy, knowledgeable guide to the contemporary working world, where personal and professional lines are blurred and the most important thing you can have is a strong sense of self.
About the Author
Aliza Licht is the fashion PR executive and former Twitter phenomenon, DKNY PR GIRL. Featured on the front page of the New York Times style section as one of "America's Next Top Mentors", dubbed the "Reigning Queen of Social Media" by Women's Wear Daily, and called one of "Six Women Who Rule the Fashion World" by TIME Style & Design, she is a TEDx speaker and five-time Fashion 2.0 award winner. She lives in New York City with her husband and their two children.
Praise For Leave Your Mark: Land Your Dream Job. Kill It in Your Career. Rock Social Media.…
"Aliza was one of the first people in the fashion industry to embrace the potential of social media and the importance of engaging with followers and, in so doing, changed what it means to work in PR. Any publicist who wants to be powerful, yet accessible, with a voice that is authentic, unique, and engaging, should follow her lead."—
Nina Garcia, creative director, Marie Claire, and Project Runway judge
"With this book, Aliza teaches you to smoke the competition with grace and honesty, excel in your career with wit and hard work, and be an overall kinder and more thoughtful human. If you want the job of your dreams, read this book."—
Stacy London, TV Personality and Style Expert
"Aliza Licht is a pioneering PR maven, a powerhouse of perfection, a commander of communication, a fierce fashion woman, and now an awesome author . . . LEAVE YOUR MARK will help you do more than that-it is an indispensable guide to success and celebration of the self. Learn the rules then go ahead and break them!"
—
Kelly Cutrone, New York Times bestselling author of If You Have to Cry, Go Outside
"Smart, savvy, and sophisticated, LEAVE YOUR MARK is the new professional must-have. No matter what industry you work in, Aliza's insider tips from career to personal branding will help you make your mark and then leave it!"
—
Joe Zee, editor in chief, Yahoo Style
"Sassy, classy, and smart, LEAVE YOUR MARK is more than just a juicy look behind the laptop of DKNY's PR genius, Aliza Licht; it's also a best friend in book form, the kind who'll tell you what you need to hear rather than just what you want to hear."
—
Heather Cocks and Jessica Morgan, creators of GoFugYourself.com and the authors of The Royal We
"Full of wisdom."—
The Zoe Report
"LEAVE YOUR MARK promises to guide you through landing your dream job, killing it in your career and rocking social media-and it does just that through 19 chapters that should serve as any young professional's go-to handbook, full of real-life advice that you won't learn in a classroom."—
Harper's Bazaar
"Licht joins the pack of badass women-ones who aren't afraid to divulge the lousy, tough parts of their careers, while sharing advice for how you can navigate your own-who have made themselves virtual mentors for anyone else trudging through the same hustle."—
Refinery29
"It should be required for all recent grads-and anyone who wants a raise."—
People
"This is a must-read for both recent grads just starting their careers and Millennials already in the work force."—
InStyle
"200+ pages make up what can be most succinctly described as a modern career primer but through the lens of Licht's own experiences."—
StyleBlazer
"
LEAVE YOUR MARK
is a guide to the modern, always-plugged-in working world."—
Women's Health
"[In LEAVE YOUR MARK
,
] Licht dispenses her advice with alarming honesty and with total clarity."—
Fashion Times
"If you're trying to figure out what your 'personal brand' is and how exactly to convey that in what you do every day, this is the book for you."—
Huffington Post Canada