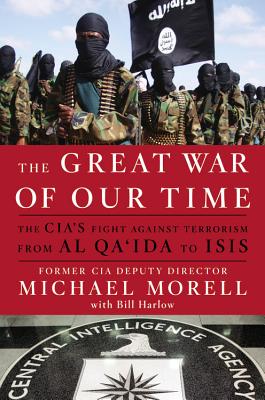 The Great War of Our Time
The CIA's Fight Against Terrorism--From al Qa'ida to ISIS
Hardcover

* Individual store prices may vary.
Other Editions of This Title:
Digital Audiobook (5/11/2015)
Hardcover, Large Print (5/12/2015)
Paperback (8/16/2016)
CD-Audio (5/12/2015)
Compact Disc (5/12/2015)
Description
Like See No Evil and At the Center of the Storm, this is a vivid and gripping account of the Central Intelligence Agency, a life of secrets, and a war in the shadows.

Called the "Bob Gates of his generation" by Politico, Michael Morell was a top CIA officer who played a critical role in the most important counterterrorism events of the past two decades. Morell was by President Bush's side on 9/11/01 when terrorists struck America and in the White House Situation Room advising President Obama on 5/1/11 when America struck back-killing Usama bin Ladin. From the subway bombings in London to the terrorist attacks in Benghazi, Morell always seemed to find himself on the cusp of history.

A superb intelligence analyst and briefer, Morell now presents The Great War of Our Time, where he uses his talents to offer an unblinking and insightful assessment of CIA's counterterrorism successes and failures of the past twenty years and, perhaps most important, shows readers that the threat of terrorism did not die with Bin Ladin in Abbottabad. Morell illuminates new, growing threats from terrorist groups that, if unaddressed, could leave the country vulnerable to attacks that would dwarf 9/11 in magnitude.

He writes of secret, back-channel negotiations he conducted with foreign spymasters and regime leaders in a desperate attempt to secure a peaceful outcome to unrest launched during the "Arab Spring." Morell describes how efforts to throw off the shackles of oppression have too often resulted in broken nation states unable or unwilling to join the fight against terrorism.

Along the way Morell provides intimate portraits of the leadership styles of figures ranging from Presidents Bush and Obama, CIA directors Tenet, Goss, Hayden, Petraeus, Panetta, and Brennan, and a host of others.
Praise For The Great War of Our Time: The CIA's Fight Against Terrorism--From al Qa'ida to ISIS…
"An insider's view...[and] a good addition, particularly for those of us not in the "circle of knowledge."—Los Angeles Times

"There are few truly 'must read' books out there, but along with Lawrence Wright's The Looming Tower, Morell's new THE GREAT WAR OF OUR TIME is one of them. Combine Wright's and Morell's books and you have a history of the rise of Islamist fanaticism vis-a-vis the United States from the end of World War II to the present. Everyone running for president should read both books...This is not a book for partisans (Presidents Bush and Obama both come in for praise and criticism) but one for future decision makers. It is also one for political writers."—Hugh Hewitt, Washington Examiner

"[THE GREAT WAR OF OUR TIME] sheds new light on U.S. controversies."—Yahoo!

"More than almost anyone else alive, Michael Morell knows the secrets of U.S. national security. Over the past two decades, the former deputy director of the CIA has played a central role in the nation's biggest counterterrorism events, starting with the response to 9/11. In his new book, THE GREAT WAR OF OUR TIME, he draws on this experience to deliver warnings for the future."—Michael Hirsh, Politico

"Fascinating new book..."—Sean Hannity, Fox News

"THE GREATWAR OF OUR TIME should be required reading for everyone. Mike [Morell] was in the room for some of our most important military decisions over the past two decades, and if you want an honest reflection on terrorism and what the USA is doing about it, buy this book."—WGN Radio

"THE GREAT WAR OF OUR TIME...offers a rich haul of gossipy insider details... But the book also makes many strong and unsettling claims: that the Arab Spring helped Islamic extremism flourish, that the Edward Snowden revelations directly aided ISIS, that the use of enhanced interrogation techniques such as waterboarding yielded essential intelligence, and that the hijacking of a transatlantic flight remains well within the capacities of Al Qaeda.... Ultimately he presents a persuasive and powerful case that without substantial financial and political investment in disrupting international terrorism, most of these future threats are not simply possible but inevitable."—Christian Science Monitor

"Morell has written a riveting and important memoir of the CIA's participation in these events, which offers an admirable amount of self-criticism (alongside some cheerleading), as well as a rare glimpse into the daily life and mindset of someone at the top of the spy game."—National Review

"Insightful.....Readers are given an inside look and riveting account of the hours after the 9/11 attacks when he was with President George W. Bush as the president received news of the attacks. Morell was a witness to history at that moment and describes those events in admirable detail."—Washington Free Beacon

"THE GREAT WAR OF OUR TIME is both fascinating and revealing. It is also extremely sobering."—FoxNews.com

"A remarkable narrative about the greatest national security threat America has faced since the Cold War and how the country's premier intelligence agency dealt with it. In THE GREAT WAR OF OUR TIME Michael Morell provides an astute look at key battles won and lost in the fight against al Qa'ida, and he offers invaluable insights for both intelligence and policy into battles yet to come. Anyone who wants to know how the CIA dealt with the al Qa'ida menace and how the country should address it going forward should read this book."—Robert Gates, former secretary of defense and CIA director

"Intelligence professionals are an unsung but absolutely critical part of our country's national security, and Michael Morell, who served 33 years at CIA, was one of the best intelligence officers our nation has ever had. His service at the senior ranks of CIA coincided with the Agency's fight against al Qa'ida, and in the THE GREAT WAR OF OUR TIME he recounts this history with honesty, insight, and poignancy. This is a very readable book in which you will learn a lot of things you didn't know before-including what it's like to work as an intelligence professional."—Joseph Lieberman, former US Senator

"Must-read for anyone thinking seriously about terrorism. An authoritative, insightful insider's account of the CIA's leadership in the War on Terror. Courageously ducks none of the thorny issues, from torture and Snowden to Usama bin Ladin."—Graham Allison, former dean, Kennedy School of Government, Harvard University, and author of Essence of Decision

"Michael Morell has written a compelling narrative about the fight against al Qa'ida and the terror it inspires and exports globally. He provides rare and thoughtful insight into the mystifying world of intelligence, to include the remarkable and patriotic Americans who serve there. Michael is the 'best of the best' and portrays the CIA at a sustained level of excellence during remarkably tough times."—Mike Mullen, ADM, USN (ret.), former chairman, US Joint Chiefs of Staff

"THE GREAT WAR OF OUR TIME has more gripping stories about his professional and personal life. Morell provides a thoughtful insight into the world of intelligence. He explains the different terrorist threats as well as how the CIA handled and assessed them. In addition he also shows that a CIA official many times must sacrifice their personal life for their professional duties."—WorkingMother.com

"Lucid and informative"—Commentary Magazine
Twelve, 9781455585663, 384pp.
Publication Date: May 12, 2015
About the Author
Michael Morell, the recently retired Deputy Director of the Central Intelligence Agency, is one of the country's most prominent national security professionals with extensive experience in intelligence and foreign policy.

Bill Harlow is a writer, consultant and public relations specialist. He spent seven years as the top spokesman for the Central Intelligence Agency. He co-authored George Tenet's #1 New York Times bestseller At the Center of the Storm.