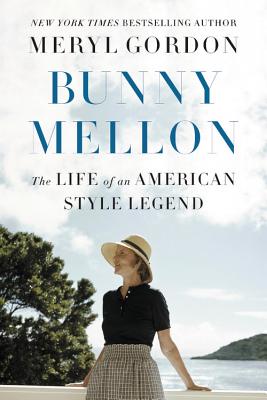 Bunny Mellon
The Life of an American Style Legend
Paperback

* Individual store prices may vary.
Other Editions of This Title:
Digital Audiobook (9/25/2017)
Hardcover (9/26/2017)
Description
A biography of Bunny Mellon, the style icon and American aristocrat who designed the White House Rose Garden for her friend JFK and served as a living witness to 20th Century American history, operating in the high-level arenas of politics, diplomacy, art and fashion.

Bunny Mellon, who died in 2014 at age 103, was press-shy during her lifetime. With the co-operation of Bunny Mellon's family, author Meryl Gordon received access to thousands of pages of her letters, diaries and appointment calendars and has interviewed more than 175 people to capture the spirit of this talented American original.
Praise For Bunny Mellon: The Life of an American Style Legend…
"Jacqueline Kennedy looked up to her socially. President Kennedy counted on her good taste to design the Rose Garden. Rachel 'Bunny' Mellon lived in a world ardently protected by discreet guards, long driveways, and noble family retainers. Thanks to Meryl Gordon we get past them."
—Chris Matthews, anchor, MSNBC's Hardball, and author of Jack Kennedy: Elusive Hero

"With an eye for telling detail balanced by nuanced understanding, Meryl Gordon explores Bunny Mellon's impeccably designed homes and gardens as well as the marital deceptions, family tragedies, intense friendships, and political intrigues. A tale of surprising creativity and resilience."—Sally Bedell Smith, author of Prince Charles: The Passions and Paradoxes of an Improbable Life

"Meryl Gordon's heroic reporting and shrewd insights have given us a fully drawn portrait of one of the twentieth century's most compelling figures, by turns warmhearted and cold-blooded, coping with an emptiness no treasure chests of jewels and art could fill."—Jeff Greenfield, author of If Kennedy Lived

"Who better than the wry, insightful Meryl Gordon to chronicle the life and legacy of such a colorful woman? Gordon is a master at delighting her readers with equal parts history and dish."—Julia Glass, award-winning author of Three Junes and A House Among the Trees

"As stylish and fascinating as its subject, this book is a biographical tour de force."
—Linda Fairstein, New York Times bestselling author

"Meryl Gordon's enchanting story takes us deep inside a lost world of taste and class-a world, as Caroline Kennedy said of Bunny Mellon's life, that was 'beautiful, well-built, and infinitely interesting.'"
—Jonathan Alter, author of The Center Holds: Obama and His Enemies

"Journalist Gordon...again fascinatingly chronicles the remarkable life of an elite twentieth-century American woman....Readers interested in gardening, art, and interior design will drool over Bunny's fine tastes, and her ease at fulfilling every one of them, but all lovers of biographies will marvel at Gordon's portrayal of Bunny's long life, and the significant figures who buzzed in and out of it."—Booklist (Starred Review)

"Gordon illuminates the virtues and contradictions of socialite Bunny Mellon (1910-2014) in this entertaining tell-all chronicle... The result is a juicy behind-the-scenes tale of American aristocracy."—Publisher's Weekly

"A rapturous biography.... and a window into 20th century American aristocracy."—Kirkus

"A gossipy read."—Wall Street Journal
Grand Central Publishing, 9781455588725, 544pp.
Publication Date: April 2, 2019
About the Author
Meryl Gordon is the author of Mrs. Astor Regrets: The Hidden Betrayals of A Family Beyond Approach. She is an award-winning journalist and a regular contributor to Vanity Fair. She is on the graduate journalism faculty at New York University's Arthur L. Carter Journalism Institute. She is considered an expert on elder abuse and has appeared on NPR, CNN, and other outlets whenever there is a high-profile case.
or
Not Currently Available for Direct Purchase