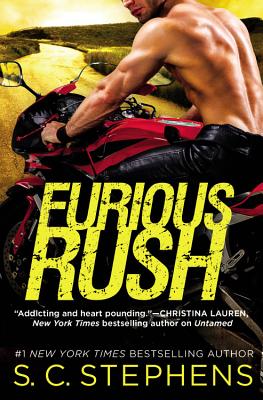 Furious Rush
Paperback

* Individual store prices may vary.
Other Editions of This Title:
Digital Audiobook (8/22/2016)
Compact Disc (8/23/2016)
Compact Disc (8/23/2016)
Description
From the #1 New York Times bestselling author of the Thoughtless series comes a swoon-worthy, enemies-to-lovers romance set in the world of motocross.

Mackenzie Cox has a lot to prove. Daughter of a racing legend, she is eager to show the world that she has inherited her father's talent in the male-dominated sport of professional motorcycle racing. The last thing Kenzie needs is to be antagonized by her rival team's newest rider, Hayden Hayes. Plucked from the world of illegal street racing, Hayden immediately gets under Kenzie's skin. His insinuations that Kenzie is a spoiled princess who was handed her career fuels her desire to win, and much to her surprise, Kenzie soon learns she performs better when she's racing against Hayden.

As Kenzie and Hayden push each other on the track, the electric energy between them off the track shifts into an intense--and strictly forbidden--attraction. The only rule between their two ultra-competitive teams is zero contact. Kenzie always does her best to play by the rules, but when her team slips into a financial crisis, she has no choice but to turn to Hayden for help. The tension simmers during their secret, late-night rendezvous, but Kenzie has too much to lose to give in to her desires. Especially when she begins to doubt that Hayden has completely left his street life behind...

LOOK FOR THE NEXT BOOK IN THE SERIES: DANGEROUS RUSH.
Praise For Furious Rush…
"Addicting and heart-pounding-you won't be able to put it down until you've devoured every word."—Christina Lauren, New York Times bestselling author on Untamed

"No one writes a sexy rock star better than S. C. Stephens. Griffin will rock your world!"—Kristen Proby, New York Times bestselling author on Untamed

"S. C. Stephens does it again! Griffin is every delicious book boyfriend fantasy come to life! Stephens takes you on a wild ride of love, lust, and self-discovery that's both passionate and heartbreaking. This book was pure magic!"—Jennifer Probst, New York Times bestselling author on Untamed

Sexy, heartbreaking and hilarious, Untamed is an epic emotional roller coaster. It has all the feels! If you loved Kellan Kyle, hold on tight - Griffin will rock your world! He's cocky, sexy, hilarious, frustrating, and surprisingly tender. My heart pounded for him, broke with him and ultimately soared. Loved it from beginning to end! Untamed is an automatic reread!—Emma Chase, New York Times bestselling author on Untamed

"S. C. Stephens knows how to keep a reader turning the pages. From the first page to the last, every wiseass inch of Griffin unspooled my heart. Dare I say he's trumped Kellan Kyle? I do! Pure deliciousness!"—Gail McHugh, New York Times bestselling author on Untamed

"A sexy, witty, yet poignant story that will seep inside you and pull at your heartstrings. This book will make you laugh, cry, and everything in-between."—Kim Karr, New York Times bestselling author on Untamed

"S. C. Stephens at her best! A sigh-worthy romance you will never forget, Thoughtful is full of her trademark emotion and toe-curling tension. A brilliant look into the mind of one of our most beloved book boyfriends. I consumed it; it consumed me. I didn't want it to end."—Katy Evans, New York Times bestselling author on Thoughtful

"Just when you thought you couldn't love Kellan Kyle more, S. C. Stephens makes you fall in love with him all over again. In typical fashion, S. C. draws you in, makes you feel like you are part of the story, and doesn't let you go until the very last page. Emotional and addictive, it's a story you'll come back to time and again. Superb!"—K. Bromberg, New York Times bestselling author on Thoughtful

"Thoughtful is an emotional roller coaster ride, and Kellan Kyle is going to make you swoon and sigh in the most delicious ways."—Lisa Renee Jones, New York Times bestselling author

"From page one, this book is impossible to put down."—Abbi Glines, New York Times bestselling author on Thoughtless

"Wildly addictive, beautifully written, and uniquely captivating. Thoughtless is a simmering, slow burn."—Tracey Garvis-Graves, New York Times bestselling author

"Stephens has perfectly and with gut-wrenching honesty portrayed the reality of a love triangle, and the mess that ensues when bonds are severed and new ones are formed. What happens when you find your soul mate at the worst possible time, in the least expected place? What if being with that person means doing the most wrong thing you've ever done? Thoughtless is one of those books that leaves you thinking about these questions, the characters and their choices for days if not weeks after reading."—Tammara Webber, New York Times bestselling author

"Furious Rush is everything Stephens is known for in a brand spankin new package. It's angsty, it's swoony, it's unbelievably sexy... It's one of those that you pick up, become completely captivated by, and you look around hours later and go, 'Whoa...' Those books? Those are the very best kind and Furious Rush was that for me."—Southern Belle Book Blog
Forever, 9781455588893, 384pp.
Publication Date: August 23, 2016
About the Author
S. C. Stephens is a #1 bestselling author who spends her every free moment creating stories that are packed with emotion and heavy on romance. In addition to writing, she enjoys spending lazy afternoons in the sun reading, listening to music, watching movies, and spending time with her friends and family. She and her two children reside in the Pacific Northwest.
or
Not Currently Available for Direct Purchase