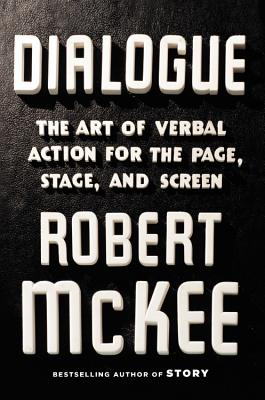 Dialogue
The Art of Verbal Action for Page, Stage, and Screen
Hardcover

* Individual store prices may vary.
Other Editions of This Title:
Digital Audiobook (7/11/2016)
CD-Audio (7/19/2016)
Compact Disc (7/12/2016)
Description
The long-awaited follow-up to the perennially bestselling writers' guide Story, from the most sought-after expert in the art of storytelling.
Robert McKee's popular writing workshops have earned him an international reputation. The list of alumni with Oscars runs off the page. The cornerstone of his program is his singular book, Story, which has defined how we talk about the art of story creation.

Now, in Dialogue, McKee offers the same in-depth analysis for how characters speak on the screen, on the stage, and on the page in believable and engaging ways. From Macbeth to Breaking Bad, McKee deconstructs key scenes to illustrate the strategies and techniques of dialogue. Dialogue applies a framework of incisive thinking to instruct the prospective writer on how to craft artful, impactful speech. Famous McKee alumni include Peter Jackson, Jane Campion, Geoffrey Rush, Paul Haggis, the writing team for Pixar, and many others.


Praise For Dialogue: The Art of Verbal Action for Page, Stage, and Screen…
"Writing dialogue is a challenging art. McKee's book DIALOGUE is a great tool for writers."—John Lasseter, chief creative officer, Pixar and Walt Disney Animation Studios

"McKee's DIALOGUE is a mother lode of insight and inspiration for any writer. His teachings have changed my career and changed my life. Robert McKee is in a category of one."—Steven Pressfield, bestselling author of The Legend of Baggar Vance, The War of Art, and Gates of Fire

"McKee teaches what is not yet taught. He shines his unwavering analytical light on the structure and invisible substructure of dialogue. He takes a craft that is often considered instinctual or magical and reveals its chemical secrets."—Terry Johnson, writer/director, winner of the Olivier Award, Critics' Circle Theater Award, WGA, and BAFTA

"DIALOGUE is a masterwork. There's nothing harder to teach. Now this book exists. McKee has written an essential book akin to The Elements of Style for all writers."—Margaret Nagle, winner of the Writer's Guild Award, Emmy, NAACP, Golden Globe, and Pen

"I used to think great dialogue couldn't be taught. You either had an ear for it or you didn't. That was before I read McKee's DIALOGUE. He's a wizard at explaining the unexplainable."—Sarah Treem, writer/producer, co-creator and showrunner of Golden Globe-winning TV Series The Affair, winner of the Writers Guild of America Award and Emmy Award nominee

"Bob McKee's approach to writing dialogue, as with every other aspect of storytelling he has taught, reflects his great breadth of experience and mastery of his craft. Clear, precise, ad rich in insight, it will prove indispensable to both the aspiring writer and the seasoned professional."—Patrick McGrath, author of Asylum and Spider

"An essential purchase destined to be replaced over the years as generations of aspiring writers wear out the copies with extensive study."—Library Journal (Starred Review)
Twelve, 9781455591916, 336pp.
Publication Date: July 12, 2016
About the Author
Robert McKee, a Fulbright Scholar, is the world's most sought-after lecturer in the art of story. Over the last 30 years, he has mentored screenwriters, novelists, playwrights, poets, documentary makers, producers, and directors. McKee alumni include over 60 Academy Award winners, 200 Academy Award nominees, 200 Emmy Award winners, 1000 Emmy Award nominees, 100 Writers Guild of America Award winners, and 50 Directors Guild of America Award winners.