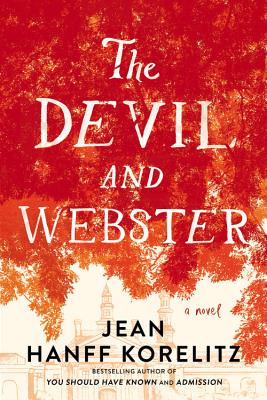 The Devil and Webster (Hardcover)
Grand Central Publishing, 9781455592388, 368pp.
Publication Date: March 21, 2017
Other Editions of This Title:
Digital Audiobook (3/20/2017)
Paperback (3/20/2018)
CD-Audio (3/21/2017)
Hardcover, Large Print (3/28/2017)
Compact Disc (3/21/2017)
* Individual store prices may vary.
Description
From the New York Times bestselling author of You Should Have Known and Admission, a twisty new novel about a college president, a baffling student protest, and some of the most hot-button issues on today's college campuses.

Naomi Roth is the first female president of Webster College, a once conservative school now known for producing fired-up, progressive graduates. So Naomi isn't surprised or unduly alarmed when Webster students begin the fall semester with an outdoor encampment around "The Stump"-a traditional campus gathering place for generations of student activists-to protest a popular professor's denial of tenure. A former student radical herself, Naomi admires the protestors' passion, especially when her own daughter, Hannah, joins their ranks.

Then Omar Khayal, a charismatic Palestinian student with a devastating personal history, emerges as the group's leader, and the demonstration begins to consume Naomi's life, destabilizing Webster College from the inside out. As the crisis slips beyond her control, Naomi must take increasingly desperate measures to protect her friends, colleagues, and family from an unknowable adversary.

Touching on some of the most topical and controversial concerns at the heart of our society, this riveting novel examines the fragility that lies behind who we think we are-and what we think we believe.
About the Author
Jean Hanff Korelitz was born and raised in New York and graduated from Dartmouth College and Clare College, Cambridge. She is the New York Times bestselling author of five novels and the creator of BOOKTHEWRITER, a New York City based service that sends authors to book groups. In 2016 she and her husband (Irish poet and The New Yorker poetry editor Paul Muldoon) adapted and co-produced "The Dead, 1904", an immersive adaptation of James Joyce's "The Dead", for New York's Irish Repertory Theatre.
Praise For The Devil and Webster…
"Korelitz's new novel is a smart, semi-satire about the reign of identity politics on college campuses today... The Devil and Webster is wittily on target about, among other things, social class and privilege, silencing and old-school feminist ambivalence about power."—NPR's Fresh Air

"Satisfying...A sharp and insightful novel....with a clever plot twist...This ought to be the start of a golden age for the campus novel."
—The Wall Street Journal

"Korelitz taps into the current unsettled campus and cultural zeitgeist with eerie precision."—Booklist

"The Devil and Webster can be read as a suspense novel seasoned with social commentary or as a plot-driven academic satire. Korelitz excels in both directions."—Shelf Awareness

"A hilarious send-up of the current college climate."—The New York Post,

"Compulsively readable, uncanny, and irreverent...Korelitz - author of Admission, a college-admissions novel that was made into the 2013 film starring Tina Fey and Paul Rudd, and You Should Have Known, about a New York shrink who learns her husband of two decades is a sociopath - is an expert on the art of deception, a talent she puts to excellent use in her latest book.—TheNationalBookReview.com

"There is so much in this novel, a thoughtful and beautiful work.... This is highly recommended reading, but don't forget to put on your thinking cap. You'll need it."—BookReporter

"Ms. Korelitz's book is smart and devious--enough so to bring to mind another work of trickery, one that has "Gone" in its title and does not feature Scarlett O'Hara."—The New York Times (Praise for You Should Have Known)

"Tempt the gods with smug self-righteousness and they will deliver a windfall of tragedy, as witness in Jean Hanff Korelitz's rollickingly good literary thriller...Korelitz writes intimately and engagingly about a social strata few are privy to, but the ugliness is very familiar."—Vanity Fair (Praise for You Should Have Known)

"This consuming, expertly plotted thriller moves along at a slow burn, building up to shocking revelations about Grace's past and ending with a satisfying twist on her former relationship mantra; 'doubt can be a gift.'"—People (Praise for You Should Have Known)

"Korelitz does not disappoint as she chronicles the emotional unraveling of her heroine in this gripping saga...A cut above your average who-is-this-stranger-in-my-marriage-bed novel, YOU SHOULD HAVE KNOWN transforms itself at certain moments from a highly effective thriller into a nuanced novel of family, heritage, identity, and nurture."—The Boston Globe (Praise for You Should Have Known)

"This excellent literary mystery [unfolds] with authentic detail in a rarified contemporary Manhattan. . . intriguing and beautiful."—Publishers Weekly (starred review) (Praise for You Should Have Known)
or
Not Currently Available for Direct Purchase