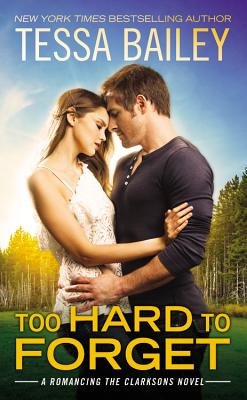 Too Hard to Forget (Romancing the Clarksons #3) (Mass Market)
Forever, 9781455594184, 336pp.
Publication Date: April 25, 2017
Other Editions of This Title:
Digital Audiobook (4/24/2017)
* Individual store prices may vary.
Description
This time, she's calling the shots.

Peggy Clarkson is returning to her alma mater with one goal in mind: confront Elliott Brooks, the man who ruined her for all others, and remind him of what he's been missing. Even after three years, seeing him again is like a punch in the gut, but Peggy's determined to stick to her plan. Maybe then, once she has the upper hand, she'll finally be able to move on.

In the years since Peggy left Cincinnati, Elliott has kept his focus on football. No distractions and no complications. But when Peggy walks back onto his practice field and into his life, he knows she could unravel everything in his carefully controlled world. Because the girl who was hard to forget is now a woman impossible to resist.
About the Author
Tessa Bailey is a New York Times and USA Today bestselling author originally from Carlsbad, California. The day after her high school graduation, she packed her yearbook, ripped jeans, and laptop, and drove cross-country to New York City in under four days. Her most valuable life experiences were learned thereafter while waitressing at K-Dees, a Manhattan pub owned by her uncle. Inside those four walls, she met her husband, best friend, and discovered the magic of classic rock, managing to put herself through Kingsborough Community College and the English program at Pace University at the same time. Several stunted attempts to enter the work force as a journalist followed, but romance writing continued to demand her attention.

She now lives in Long Island, New York with her husband and daughter. Although she is severely sleep-deprived, she is incredibly happy to be living her dream of writing about people falling in love.

You can learn more at:
TessaBailey.com
Twitter @mstessabailey
Facebook.com/TessaBaileyAuthor
Praise For Too Hard to Forget (Romancing the Clarksons #3)…
"4 1/2 Stars! Top Pick! Too Hard to Forget is a top-notch second-chance romance...The third installment in [Bailey's] Romancing the Clarksons series adds greater depth to established characters and delivers a juicy romance that flows naturally."—RT Book Reviews

"5 Stars! Top Pick! Peggy's story is EVERYTHING! Too Hard to Forget is an amazing story that no one should miss out on! This is going on my keeper shelf and I foresee many re-reads in my future! If you love contemporary romance, you NEED to read this one. Suffice to say, this is one book that I won't be forgetting! Highly recommend!"—HarlequinJunkie.com

"Poignant, emotional, yet with an air of hopefulness, Tessa Bailey's Too Hard To Forget is an exceptional romance."—GuiltyPleasuresBookReviews.com

"4 1/2 Stars! Top Pick! Another keeper I'll read over and over."—NightOwlReviews.com

"[T]houghtful and emotional. ... [T]he best book in the series so far."—StraightShootinBookReviews.com

"Tessa [Bailey] shines once again."—Read-Love-Blog.com

"Bailey adeptly crafts a satisfying romance between two broken protagonists, allowing them to find completion and healing in each other. A dash of humor and a heavy dose of spicy action round out this tale, which manages to be both raw and playful without losing its balance. [T]his is an entertaining and worthy installment."—Publishers Weekly on Too Wild to Tame

"4 Stars! Known for her intense love scenes and fully charged sexual tension, Bailey does not disappoint. Since neither the hero nor heroine are what they seem, their road to happily ever after is an utter delight."—RT Book Reviews on Too Wild to Tame

"5 stars! Top Pick! It's filled with heated moments, sexy characters, and explosive scenes. The book starts off with a bang, so I would certainly recommend carving out some time to read this in one sitting, because once you start reading, you won't stop."—HarlequinJunkie.com on Too Hot to Handle

"Bailey crafts an entertainingly spicy tale, with humor and palpable sexual tension."—Publishers Weekly on Too Hot to Handle

"[F]or a quick romantic read with plenty of sizzle, Make Me delivers."—Dear Author

"Fun, super-sexy... The love scenes in Need Me are practically incendiary"—Booklist

"4 1/2 Stars! Top Pick! With super hot love scenes and a generous dose of humor, Chase Me is ... utterly irresistible."—RT Book Reviews

"Chase Me is sure to appeal to romance fans of all ages as Bailey offers a little of everything from laughter to tears in her newest romantic adventure."—Smexy Books

"I thought the book was a quick read and it was fun, silly, and emotional at all the right moments."—Smart Bitches Trashy Books on Chase Me

"The love scenes were delicious..."—Dear Author on Risking it All

"4 1/2 Stars! [H]as the potential to make readers across the globe seriously swoon. ... [A]n unforgettable story that you will be talking about for a long time."—RT Book Reviews on Risking it All

"[C]racky goodness!"—Smexy Books on Exposed by Fate

"There is a good mix of humor and emotional drama. The dialogue is snappy and the pace is great."—Dear Author on Officer Off Limits

"It totally worked for me, had me feeling all sorts of things throughout and had me grinning like mad in the end."—Maryse's Book Blog on Protecting What's His

"It's breezy, fun, and sexy reading..."—Dear Author on Protecting What's His

"The sexy banter between the couple is hot enough to singe the pages, but the emotions remain genuine and real."—RT Book Reviews on Protecting What's His
or
Not Currently Available for Direct Purchase