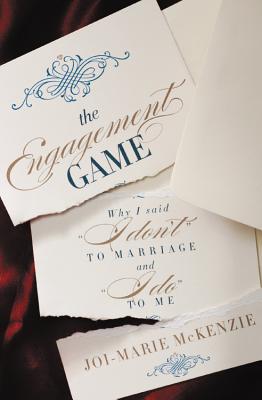 The Engagement Game (Paperback)
Why I Said "I Don't" to Marriage and "I Do" to Me
Center Street, 9781455594504, 304pp.
Publication Date: March 5, 2019
* Individual store prices may vary.
Description
Like so many single women, Joi-Marie McKenzie almost has it all: a successful career, a supportive family, and faith in God. She even has a boyfriend, but he won't propose.
Ambitious and confident, almost-30-year-old Joi-Marie refuses to believe the gloomy statistics on single women marrying and hilariously questions when the marriage deck became stacked against women like her. But, feeling the pressure to wed, Joi-Marie decides to play "the engagement game" a five-step process handed down by her older married sister.
When she slowly becomes a person she doesn't recognize, or even like, Joi-Marie ends up finding the true key to unlocking love--herself.
Joi-Marie reveals-often with laugh out loud humor-the deeply personal thoughts and feelings many single women dare say out loud. Written almost like a novel, Joi-Marie takes readers on her raw journey to inner growth-without giving up on the idea of marriage.
About the Author
Joi-Marie McKenzie is the senior entertainment editor at Essence magazine. She is also the creator of The Fab Empire, an award-winning website that covers celebrities, society, and local events in cities across the United States. Joi-Marie currently lives in New York City.
Praise For The Engagement Game: Why I Said "I Don't" to Marriage and "I Do" to Me…
"In an age where looking for love means fielding meager advances made over DM and swiping aimlessly through apps and online profiles, Joi-Marie McKenzie's
The Engagement Game
offers a brutally, beautifully honest take on what it really means to be a smart, sexy, single and seeking twenty-something, navigating today's volatile dating minefield in a driven - at times even desperate - search for her fairytale ending."—
Janine Rubenstein, Staff Editor, People Magazine
"Women like Joi-Marie seem like they have it all. But in this candid memoir, she peels back the layers of the glamorous life to reveal the anxiety and striving, the dodgy guys and the workplace absurdities. Still, her buoyant sense of humor makes it fun to accompany her on this journey through young adulthood."—
Amy Argetsinger, The Washington Post
"
The Engagement Game
is a must read for our time. It is a great tome for young women who need time to first discover themselves before they say yes to discovering someone else in marriage."—
Sophia A. Nelson, award winning author of The Woman Code: 20 Powerful Keys to Unlock Your Life.
"The Engagement Game is not only an engaging read but courageous. So many women have been told they need a man, marriage, or motherhood to be happy. Joi-Marie McKenzie reminds us that what women really need is the freedom to define happiness on our own terms."
—
Keli Goff, Columnist, The Daily Beast
"Buckle up. Reading The Engagement Game is like brunch with your best friend where she tells you all the crazy highs (hello international travel and swoon-worthy dates) and excruciating lows (did he really just say that?) on her quest to marry a man she loves. Joi-Marie's transparency and incredible writing is a breath of fresh air in today's wild west dating scene. Every woman should read this universal story of finding yourself in the journey to Mrs. life."
—
Charreah K. Jackson, Essence Relationships Editor and author of Boss Bride
"The road to deep and meaningful relationships has potholes, barriers, twists and turns. Cultural expectation, societal and religious pressures along with the onslaught of instant information, worldviews and opinion can make the trip complex. Joi-Marie shares her road trip honestly. She gives a hilarious and fresh take on how looking for that "forever relationship" can lead to discovering yourself."—
Bishop Vashti Murphy McKenzie, author of Journey to the Well and Not Without a Struggle
"A hilarious and unique take on dating that also reveals how sisterhood, daughterhood, friendship, and Spirit can lead to a deeper relationship with self and unbounded self-love."—
Chanel Craft Tanner, Crunk Feminist Collective, Assistant Director, Center for Women at Emory University
Joi-Marie McKenzie's debut memoir
The Engagement Game
is friggin' hilarious and sometimes cringe-inducing time machine, shooting me back to my late 20s and those hours-long brunches spent dissecting what "he" meant by some text, G-chat or Facebook poke (remember Facebook pokes?). It'll be a fun and eye-opening trip down memory lane for some and just last week for others. McKenzie expertly captures not just the heartache of sticking it out with Mr. Right Now but that triumphant Aha! moment when you decide to follow your gut and get to the joy on the other side.—
Helena Andrews, Washington Post columnist and author of Bitch is the New Black
"Rarely do I see myself reflected in books: A young Black career-woman trying to navigate life and find The One at the same time! Joi-Marie McKenzie hilariously captures that adventure in this relatable, laugh-out-loud funny book."—
Arianna Davis, Entertainment Features Writer at Refinery 29
"The Engagement Game
is a compelling tale capturing Joi-Marie's experience as a savvy, successful young woman looking to find and keep love. Ultimately, this journey provides her with an important life lesson on how to remain true to self while seeking marriage. Through her humorous and witty writing, Joi-Marie delivers an engaging read that celebrates independence and freedom among women everywhere."—
Lilly Workneh, Black Voices Senior Editor at The Huffington Post
"Bubbly. Fun. But always real, Joi-Marie McKenzie's
The Engagement Game
is a memoir that reads like your favorite weekend escapist novel. As you dive in, the pages transport you from the hum drums of life to the fast paced world of entertainment journalism; the New York and Washington, D.C. dating scenes; and that dogged pursuit of a ring so many women fall into until they learn to invest in one's self over a man's affections. It's a tale of the 20s (and 30s and for some, even their 40s) that's relatable and relevant to every woman who's pursued a career while looking for an ending straight out of the movie 'Mahogany.'"—
Danielle Belton, Managing Editor of The Root
"
The Engagement Game
makes one thing clear (in alternately hilarious and heartbreaking terms): If the chase for Mr. Right and an Instagram-perfect life challenges a woman like Joi-Marie McKenzie, the rest of us mere mortals should see just how silly it is. McKenzie speaks clearly to those of us who've been made to feel that a 'Mrs' title (and a properly large rock on our ring finger) means more than our professional accomplishments, our contributions to the community and even, perhaps, our happiness."—
Jamilah Lemieux