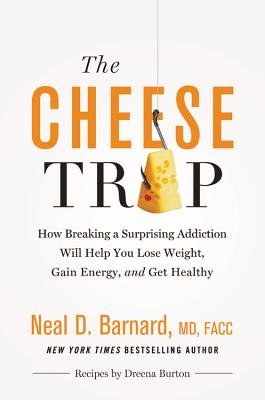 The Cheese Trap (Hardcover)
How Breaking a Surprising Addiction Will Help You Lose Weight, Gain Energy, and Get Healthy
Grand Central Life & Style, 9781455594689, 320pp.
Publication Date: February 28, 2017
Other Editions of This Title:
Digital Audiobook (2/27/2017)
Paperback, Spanish (6/30/2018)
Compact Disc (2/28/2017)
Compact Disc (2/28/2017)
* Individual store prices may vary.
Description
New York Times bestselling author Dr. Neal Barnard reveals the shocking truth about cheese-the dangerous addiction that is harming your health-and presents a radical program to lose weight and feel great.
We've been told that dairy does a body good, but the truth is that cheese can be dangerous. Loaded with calories, fat, and cholesterol, cheese can make you gain weight and leads to a host of health problems like high blood pressure and arthritis. Worse, it contains mild opiates that make it additive, triggering the same brain receptors as heroin and morphine. In THE CHEESE TRAP, Dr. Neal Barnard presents a comprehensive program to help readers break free of their cheese addiction so they can lose weight, boost energy, and improve their overall health. This easy-to-follow diet features a treasury of healthy recipes that will tame even the toughest cravings-from pizza, to lasagna, to ice cream and cheesecake.
About the Author
Neal Barnard, MD, is a clinical researcher, author, and health advocate. He is an Adjunct Associate Professor of Medicine at the George Washington University School of Medicine and Health Sciences and president of the nonprofit Physician's Committee for Responsible Medicine. He is the author of several books and a frequent lecturer.
Praise For The Cheese Trap: How Breaking a Surprising Addiction Will Help You Lose Weight, Gain Energy, and Get Healthy…
"If you want to know where medicine will be ten years from now, read Dr. Neal Barnard's writings today."—
Dean Ornish, MD, New York Times bestselling author of The Spectrum and Dr. Dean Ornish's Program for Reversing Heart Disease
"Our love-affair with cheese is killing us. Learning the truth about cheese may save your life."—
Joel Fuhrman, MD, New York Times bestselling author of The End of Heart Disease and The End of Diabetes, among others
"The Cheese Trap busts open the myths of cheese as a health food and provides an eye opening, mouth shutting view of the way cheese is produced and does damage."
—
Joel Kahn MD, Clinical Professor of Medicine, and author of The Whole Heart Solution
"
Calories, cholesterol, salt and saturated fat
-Dr. Barnard analyzes the process and problems of cheese production and consumption in the American population. It's no wonder that coronary artery plaque-the leading cause of death in the United States-resembles cheese in so many ways. "—
Kim Allan Williams, Sr., M.D., MACC, FAHA, MASNC, FESC Immediate Past President, American College of Cardiology
"This informative and entertaining book clearly and compellingly lays out the reasons why cheese should not be part of our diet. I highly recommend it!"—
Ted D. Barnett, MD, Medical Director and CEO, Rochester Lifestyle Medicine
"Do you love cheese? Think again! Dr. Barnard makes it crystal clear why you'll want to steer clear of cheese as if your life depends on it because, guess what-it does!"—
Rip Esselstyn, #1 New York Times bestselling author of The Engine 2 Seven-Day Rescue Diet
"Dr. Barnard shares the truth about one of America's greatest addictions. A must read for anyone wanting to be empowered to go fully plant-based."
—
Chad Sarno and Derek Sarno, Chefs, Brothers, and Founders of Wicked Healthy