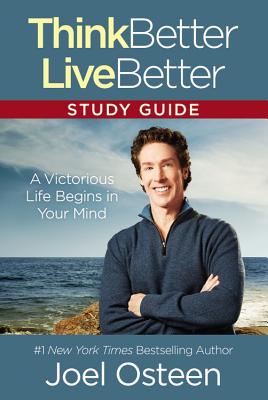 Think Better, Live Better Study Guide (Paperback)
A Victorious Life Begins in Your Mind
FaithWords, 9781455595877, 96pp.
Publication Date: October 4, 2016
* Individual store prices may vary.
Description
Bestselling author Joel Osteen presents a practical study guide for readers to lead a more blessed life by removing all negativity from their thoughts.
Based on Joel Osteen's book Think Better, Live Better, this study guide expands on his message about the effects negative thinking has on our actions. By presenting intriguing questions and motivational insights in each chapter, readers' minds will be freed from despairing thoughts, so they can rise to a new level of victory. Designed for both individual and group study, THINK BETTER, LIVE BETTER STUDY GUIDE is filled with challenging activities and other interactive applications to guide readers each day. Osteen helps readers begin to think about themselves the way God does. In order to live more fulfilling lives, readers will reprogram the thoughts that tear down their confidence and learn to use their thoughts for success.
About the Author
JOEL OSTEEN is the author of seven New York Times bestsellers. He is the senior pastor of America's largest congregation, Lakewood Church in Houston, Texas. More than 45,000 people attend services there every week. His televised messages are seen by more than 10 million viewers each week in the United States, and millions more in 100 nations around the world. His 24-hour channel on SiriusXM Satellite Radio and millions of social media followers have prompted numerous publications to name him as one of the most influential Christian leaders in the world. He resides in Houston with his wife, Victoria, and their children. You can visit his website at www.joelosteen.com.