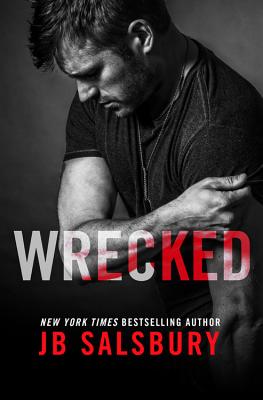 Wrecked (Paperback)
Forever, 9781455596362, 352pp.
Publication Date: July 18, 2017
Other Editions of This Title:
Digital Audiobook (7/17/2017)
* Individual store prices may vary.
Description
"A heartbreakingly beautiful story about loss and the power of second chances." Mia Sheridan, New York Times bestselling author "Heartbreaking and heartwarming... one of the best friends-to-lovers romances that I've read this year." Corrine Michaels, New York Times bestselling author When you can't trust yourself, how can you ask anyone else to?

It's been months since Aden Colt left the Army, and still the memories haunt him. When he moved into a tiny boat off the California coast, he thought he'd found the perfect place to escape life. Then Sawyer shows up and turns his simple life upside down. Beautiful and sophisticated, she seems out of place in this laid-back beach town. Something is pushing her to experience everything she can-including Aden. But as much as he wants her, starting a relationship with Sawyer puts them both at risk. For Aden, the past doesn't stay there; it shows up unexpectedly, uncontrollably, and doesn't care whose life it wrecks.
About the Author
New York Times bestselling author JB Salsbury spends her days lost in a world of budding romance and impossible obstacles. Her love of good storytelling led her to earn a degree in Media Communications. Since 2013 she has published six bestselling novels in The Fighting Series and won a RONE Award. JB Salsbury lives with her husband and two kids in Phoenix, Arizona.
Praise For Wrecked…
"I loved this book! Once I started reading, I was hooked! It was a sexy edgy, and refreshingly unique romance! Definitely a new favorite!"—Aestas Book Blog on Split

"Wow! My head is spinning and my heart is rejoicing. Sweet, tender, unexpected, heartbreaking, and so beautifully healing. It's like nothing I've ever read before."—Mia Sheridan, New York Times bestselling author on Split

"Heartwarming, raw, and sexy. JB Salsbury did an amazing job on this one! With pacing so intense, it knocked me off my feet."—Tijan, New York Times bestselling author on Split

"Visceral. Addictive. Out of this world intense. A roller-coaster ride from start to end, Split will take your breath away."—Katy Evans, New York Times bestselling author

"This book had my heart RACING. Emotional, intense, and highly addictive. I couldn't turn the pages fast enough."—J. Daniels, New York Times bestselling author on Split

"5 stars! Highly recommend! I went into Split completely blind and at first had no idea what to expect. But then the book swept me away."—Pepper Winters, New York Times bestselling author

"An addicting, wild ride of epic proportions that will stay with you long after you've reached the end."—Harper Sloan, New York Times bestselling author on Split

"JB Salsbury crafts a masterful romance with Split. It grabbed me by the throat and punched me in the heart."—Claudia Conner, New York Times bestselling author

"Riveting and heartbreaking, Split is a must read and one of my favorites of 2016."—Rebecca Shea, New York Times bestselling author

"A powerful punch of deep emotion, sexy characters, and ingenious writing--this is the book you've been waiting for."—Pam Godwin, New York Times bestselling author on Split

"A brilliantly constructed romantic thriller you'll devour in one sitting! The perfect amount of sexual tension and sweetness rolled up with my favorite of all: a dangerously hot alpha male, makes this one addictive read!"—Elizabeth Reyes, USA Today bestselling author on Split