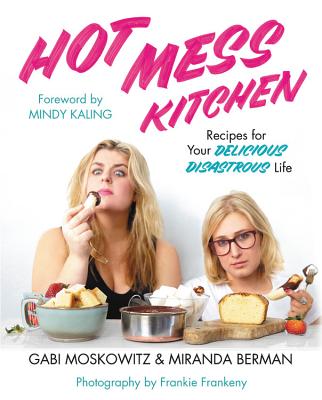 Hot Mess Kitchen (Hardcover)
Recipes for Your Delicious Disastrous Life
Grand Central Life & Style, 9781455596508, 288pp.
Publication Date: September 12, 2017
* Individual store prices may vary.
Description
"I came for the recipes and stayed for the funny, personal writing. How could you not love a book with recipes like 'Fuck It, Let's Just Get Stoned Nachos' and 'All My Friends Are Married Mud Pie'? Surely there is not one among you who has not felt both sentiments. You could buy this book and enjoy it without ever taking out your oven mitts." --Mindy Kaling, from the foreword

Decades ago, every young woman left home knowing how to cook, but now, well, not so much. And while they're happy times have changed, authors Gabi Moskowitz and Miranda Berman want to save millennials from the perils of takeout and take back the kitchen with their new book, HOT MESS KITCHEN.

These ladies aren't serving caviar and champagne; they're making Quarter-Life Crisis Queso. They're not giving you a plan for the perfect dinner party, but suggesting How to Throw a Fabulous Dinner Party Without Having an Anxiety Attack. And they're going to be there each step of the way with easy, delicious recipes and personal stories that make it feel like they're right there in your kitchen with you, showing you which knife to use and wiping the mascara from your face as you cry from onion chopping. They're going to be your friends. Your kitchen friends, your HOT MESS KITCHEN friends. Your best friends? No, no, this isn't like a Her type of scenario. Have real friends.

Read this book and all their stories, and let Gabi and Miranda show you how cooking has helped, or how it could have helped them, in their messiest moments!

About the Author
Gabi Moskowitz is the editor in chief of the nationally acclaimed budget cooking blog Broke-Ass Gourmet and the author of four cookbooks. Gabi is also the coproducer of Young & Hungry, a Freeform comedy, now in its fifth season, inspired by her life and writing. She starred in a web series in conjunction with the show, called Young & Foodie. When she is not blogging, writing books, or making television, Gabi contributes to the Washington Post, The Guardian, and Lenny Letter. She lives in San Francisco with her husband, Evan.

Miranda Berman
is a TV writer who has spent the majority of her career working on
The Mindy Project
. She also hosts a podcast aptly titled "High School with Miranda Berman," on which she interviews guests about their high school experiences. She's originally from New York City, but currently lives and eats in Los Angeles.
Praise For Hot Mess Kitchen: Recipes for Your Delicious Disastrous Life…
"With recipes like "I Want to Punch You in the Face Pasta" and "Bounced Check Burrito," Hot Mess Kitchen threatens to be the most relatable, down-to-earth cookbook on the planet. These hilarious women have crafted delicious, realistic recipes and deeply personal anecdotes to accompany them. Honestly, I'm just so damn mad this didn't exist when I was in my twenties."—Jenni Konner, co-creator of HBO's Girls

"Gabi and Miranda's book feels like your favorite teacher from school came over to cook you a fun-filled meal and didn't mention homework. Their recipes are easy and enjoyable in a way that will have you bragging and begging people to come over to try."—Sophia Rossi, co-founder of HelloGiggles.com

"As a big proponent of emotional eating backed up by actual cooking, I have nothing but praise for this helpful guide to fueling your climb to higher self-esteem. Gabi and Miranda will forgive me, I hope, for regarding them as the uncoolest cool girls (or is it the other way around?) ever. I would totally put myself in their hands if my life ever slipped off the track of its normal perfection. SO BUY IT ALREADY!"—Mollie Katzen, author of Moosewood Cookbook and The Enchanted Broccoli Forest