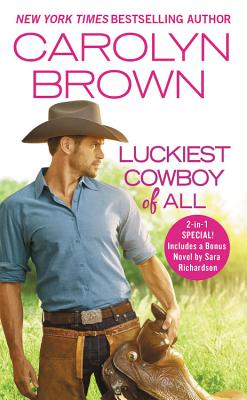 Luckiest Cowboy of All (Mass Market)
Two full books for the price of one (Happy, Texas #3)
Forever, 9781455597505, 688pp.
Publication Date: January 30, 2018
Other Editions of This Title:
Digital Audiobook (1/29/2018)
* Individual store prices may vary.
Description
TWO FULL NOVELS FOR THE PRICE OF ONE! AN ALL-NEW CAROLYN BROWN BOOK, PLUS HOMETOWN COWBOY BY SARA RICHARDSON
A secret baby brings a second chance for love.
Carlene Varner's homecoming isn't exactly going according to plan. She thought she'd have some time to adjust before introducing her daughter to Jace Dawson, the father her little girl has never known. Instead, within days of her arrival, her house burns down and she and Tilly have no choice but to move in with the sexy cowboy himself at the Prairie Rose ranch. Now the whole Dawson clan-heck, the whole town of Happy-is all up in their business.
Jace has dealt with stubborn bulls and bucking broncos-but being a dad? He is so not ready for this... Yet the more time he spends with Carlene and little Tilly, the harder it is to imagine life without them. Now he just has to convince Carlene that he's the real deal-and hope that this time she's here to stay.
HOMETOWN COWBOY by Sara Richardson
Outrageously handsome Lance Cortez is practically a living legend in Colorado, as famous for riding bulls as he is for breaking hearts. What would a big-time cowboy star like him see in a small-town veterinarian who wears glasses, rescues animals, and cries when watching rom-coms? Turns out, plenty.
For fans of Debbie Macomber or Lori Wilde, these cowboy romances deliver a heartwarming read full of feels.

More in the Happy, Texas, series by Carolyn Brown:
Toughest Cowboy in Texas
Long, Tall Cowboy Christmas
About the Author
Carolyn Brown is a New York Times and USA Today bestselling romance author and RITA® Finalist who has sold more than 3 million books. She presently writes both women's fiction and cowboy romance. She has also written historical single title, historical series, contemporary single title, and contemporary series. She lives in southern Oklahoma with her husband, a former English teacher, who is not allowed to read her books until they are published. They have three children and enough grandchildren to keep them young. For a complete listing of her books (series in order) and to sign up for her newsletter, check out her website at CarolynLBrown.com or catch her on Facebook/CarolynBrownBooks.
Praise For Luckiest Cowboy of All: Two full books for the price of one (Happy, Texas #3)…
"Wonderfully charming characters. ...This sweet, heartwarming romance is sure to increase Brown's fan base."—
Publishers Weekly
"Carolyn Brown's cowboys are as real as they come...
Luckiest Cowboy of All
shows that there is always a second chance for true love, forgiveness and a happily ever after. This series is fascinating, well developed and satisfyingly sexy."—
RT Book Reviews
4 stars! "A nice blend of warmth, down-home goodness, humor and romance. Lively, flirty banter and genuine, down-to-earth characters are the highlights of this engaging story....The flirty banter between Deke and Josie is amusing and heart-warming, and the chemistry between them sizzles."—
RT Book Reviews on Wicked Cowboy Charm
"A captivating cast of characters fills the pages of this sweet and funny novel."—
Publishers Weekly on Merry Cowboy Christmas
"Top Pick! Carolyn Brown writes about everyday things that happen to all of us and she does it with panache, class, empathy and humor. 4 ¿ stars."—
Night Owl Reviews on Merry Cowboy Christmas
"Brown's modern storytelling and fun-filled plot will engage readers and wrap them up in this sweet, Southern holiday romance."—
RT Book Reviews on Merry Cowboy Christmas
"Another hit for Carolyn Brown! Carolyn Brown weaves a story that will have you wishing for your own hot cowboy for the night."—
Book Junkiez on Hot Cowboy Nights
"Carolyn Brown manages to create a romance that's steamy, light and fun, while also a relationship with substance and heart.... a character-driven delight for romance fans."
—
Fresh Fiction on Hot Cowboy Nights
"With an irresistibly charismatic cowboy at the center of this story, Brown's latest is a sexy, fun read. ...The genuine, electric chemistry between Allie and Blake jumps off the page."—
RT Book Reviews on Wild Cowboy Ways