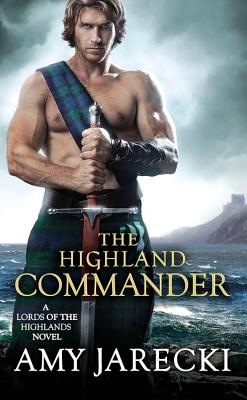 The Highland Commander (The Highland Lords #2) (Mass Market)
Forever, 9781455597857, 384pp.
Publication Date: June 27, 2017
* Individual store prices may vary.
Description
"Readers craving history entwined with their romance (a la Outlander) will find everything they desire in Jarecki's latest. Scottish romance fans rejoice." --RT Book Reviews
She cannot resist the man behind the mask...
As the illegitimate daughter of a Scottish earl, Lady Magdalen Keith is not one to partake in lavish balls or other frivolities. Yet at her father's urging, she agrees to dance with the battle-weary officers at this year's holiday masquerade. It's practically her civic duty! But when one such officer--whose dashing good looks cannot be disguised by a mere mask--sweeps her off her feet and into his arms, the innocent lass can't help herself. Her lips are his for the taking.
But will he betray his country for a kiss?
Navy lieutenant Aiden Murray has spent too many months at sea to be immune to the charms of this lovely beauty. Even after he returns to his ship, she lives in his dreams. But when he discovers Maddie's true identity-and learns that her father is accused of treason-will the brawny Scot risk his life to follow his heart?
"This book hit all the right notes for me: swoon-worthy hero (oh, so, swoon-worthy); a sympathetic and capable heroine; intrigue and action scenes (fast paced); witty dialogue and banter; and sensual love scenes that grow the relationship. An excellent read." --The Romance Dish
Lords of the Highlands series:
The Highland Duke
The Highland Commander
The Highland Guardian
About the Author
Award winning and Amazon All-Star author, Amy Jarecki likes to grab life, latch on, and reach for the stars. She's married to a mountain-biking pharmacist and has put four kids through college. She studies karate, ballet, yoga, and often you'll find her hiking Utah's Santa Clara Hills. Reinventing herself a number of times, Amy sang and danced with the Follies, was a ballet dancer, a plant manager, and an accountant for Arnott's Biscuits in Australia. After earning her MBA from Heroit-Watt University in Scotland, she dove into the world of Scottish historical romance and hasn't returned. Become a part of her world and learn more about Amy's books on amyjarecki.com.
Praise For The Highland Commander (The Highland Lords #2)…
"Sizzles with romance... Jarecki brings the novel to life with vivid historical detail."—Publishers Weekly