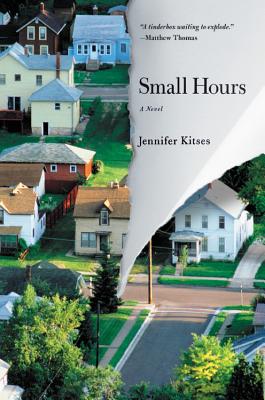 Small Hours
Hardcover

* Individual store prices may vary.
Other Editions of This Title:
Digital Audiobook (6/12/2017)
Compact Disc (6/13/2017)
Description
Richard Russo meets Tom Perrotta in this gripping, suspenseful, and gorgeous debut novel about family secrets come to light; "a tinderbox waiting to explode" (Matthew Thomas, New York Times Bestselling author of We Are Not Ourselves. On a day of rising tension, Tom, a news editor, will confront the consequences of an indiscretion that he has tried desperately to hide and that now threatens to undo his family. Helen, a graphic designer who works from home, will be drawn into an escalating conflict with two street-smart teenage girls. Told hour-by-hour over the course of a single day, a husband and wife try to outrun long-buried secrets, sending their lives into chaos.
Praise For Small Hours…
"Jennifer Kitses slowly and artfully turns up the flames in her debut novel until Small Hours reaches a raging boil. Tom's and Helen's disparate twenty-four hours, wracked and ruined by a jumble of anxieties and miscues, unravel with the tension of a thriller and the gimlet-eyed observations of a novel of manners."
—Teddy Wayne, Whiting Award-winning author of The Love Song of Jonny Valentine and Loner

"Jennifer Kitses's taut debut, SMALL HOURS, is like a time bomb whose ticking you don't notice until it's too late. I was riveted, shaken, and deeply moved by this insightful story of a marriage on the brink."—Will Allison, New York Times bestselling author of Long Drive Home

"A brave, brilliant debut, written in prose like the edge of a razor blade, about how little it takes for any of our lives to spin out of control--and how we can struggle to put back the pieces. Gripping, haunting--and dare I say it? Life changing."—Caroline Leavitt, New York Times bestselling author of Pictures of You, This Is Tomorrow, and Cruel Beautiful World

"The big secrets that haunt Small Hours will keep you on high alert, wondering what you don't know about your friends and neighbors."—Mira Jacob, author of The Sleepwalker's Guide to Dancing

"In her page-turner of a debut, Jennifer Kitses has captured the spirit of Tom Perrotta and Richard Russo, painting a dramatic portrait of a suburban marriage on the rocks. She shows all too well the emotional pitfalls of working parenthood and the precipice that so many of us navigate every day. A rich, searing, and unforgettable novel."
—Julia Fierro, author of Cutting Teeth and The Gypsy Moth Summer

"The heart of this taut novel is a tinderbox waiting to explode. Kitses's surprisingly suspenseful plot finds intrigue in unexpected corners, as a married couple faces existential crises in a hothouse environment of suburban ennui, with shades of Homes's Music for Torching. A damning portrait of unexamined privilege and a radically persuasive argument for the need for communication in relationships."—Matthew Thomas, New York Times bestselling author of We Are Not Ourselves

Over 24 increasingly suspenseful hours, a family's suburban life unravels.A tense domestic drama, Kitses' first novel alternates between the points of view of a husband and wife torn apart by what they don't tell each other...Leavened with occasional humor...the novel gradually and inexorably ratchets up its suspense...The novel succeeds as both a disquieting tale of ordinary horror and a portrait of a marriage at a tipping point.—Kirkus

"Well paced, offering heart-pounding tension...Fans of Matthew Norman, Sarah Dunn, and Emma Straub will enjoy this cautiously optimistic domestic drama full of small kindnesses and deep betrayals."—Booklist

"An intriguing tale about... the choices people make, and what happens when plans go bad... Kitses skillfully builds the tension as our protagonists slide from one crisis to the next. As in a thriller, the reader wants to yell, 'No! Don't do that!' as the hero and heroine proceed to do just that... Kitses brings the story home with a haunting question: When times get tough, do you stay or do you go?"—Minneapolis Star Tribune

"The novel equivalent of a ticking time bomb."—New York Post, Hot Summer Reads

"Realistic and compelling... there's no easy way out for these characters."—Publisher's Weekly

"Suspenseful, beautifully-written debut."—Refinery29, Best Reads of June

"This intelligent debut explores a young couple's relationship with time, stress, and their own toxic secrets... The single day that unfolds in Jennifer Kitses' debut novel, SMALL HOURS is packed with harrowing, edge-of-your-seat drama, high-stakes decisions, and constant physical and psychological danger."—Washington Independent Review of Books

"Jennifer Kitses really illustrates very well the palpable sense of constant stress that this couple is feeling. It's like a runaway train...It brought up a lot of questions...What do we owe the people we love, in terms of honesty and truth? ...Can you decide that honesty in a relationship is not necessarily telling everything?"—The New York Public Library's podcast, The Librarian Is In

"Jennifer Kitses' Small Hours is an engrossing novel of a single day in the life of a young couple whose suburban life is far less perfect than it seems...As their lives unravel, the tensions and secrets between the two come to a full boil. I found myself reading the book while holding my breath!"—Nancy Bilyeau
Grand Central Publishing, 9781455598526, 288pp.
Publication Date: June 13, 2017
About the Author
Jennifer Kitses is the author of the novel Small Hours. She received an MLitt in creative writing from the University of St. Andrews in Scotland, and has worked for Bloomberg News, Condé Nast Portfolio, and Columbia Business School. Her fiction has appeared in Akashic Books' online series, Mondays Are Murder. She lives with her family in New York.
or
Not Currently Available for Direct Purchase