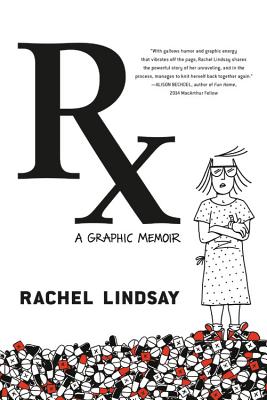 RX
Hardcover

* Individual store prices may vary.
Description
A graphic memoir about the treatment of mental illness, treating mental illness as a commodity.
 
In her early twenties in New York City, diagnosed with bipolar disorder, Rachel Lindsay takes a job in advertising in order to secure healthcare coverage for her treatment. But work takes a strange turn when she is promoted onto the Pfizer account and suddenly finds herself on the other side of the curtain, developing ads for an anti-depressant drug. Overwhelmed by her professional life and the self-scrutiny it inspires, her mania takes hold. She quits her job to become an artist, only to be hospitalized by her parents against her will. Over the course of her two weeks in the ward, she tries to find a path out of the hospital and this cycle of treatment. One where she can live the life she wants, finding freedom and autonomy, without sacrificing her dreams in order to stay well.
Praise For RX…
"With gallows humor and graphic energy that vibrates off the page, Rachel Lindsay shares the powerful story of her unraveling, and in the process, manages to knit herself back together again."—Alison Bechdel, author of Fun Home, 2014 MacArthur Fellow

"Rachel Lindsay's graphic memoir is a powerful example of how writing and drawing about something painful and unimaginably difficult-in this case, bipolar illness-can be healing, both for oneself and for those who read it. "—Roz Chast, New York Times bestselling author of Can We Talk About Something More Pleasant?

"The making of this remarkable and darkly funny book-the story of a woman trapped in an uncontrollable cycle of mania and depression, told with an enviable clarity-of-thought-is, in the end, Rachel's launch on her journey to self-help. She is wise enough to know that writing and drawing a memoir will hardly solve all of her problems, and shows good judgment in avoiding the canard that 'Art saved my life.' At the same time, with the making of this book, she demonstrates that Art can surely set us on the path to discovering, understanding and, therefore, forgiving ourselves."—David Small, National Book Award Finalist and #1 New York Times Bestselling author of Stitches

"What's so striking about Lindsay's debut is the way it captures the frenzy of her bipolar disorder and puts readers within the eye of the hurricane, identifying with her so completely that it becomes impossible to accept easy, black-and-white answers about the nature of her illness and the effectiveness of her treatment. The entire experience-what led to her hospitalization, what she experienced during her time there, and how she has fared since leaving-is rendered in all its frazzled intensity and intimacy in a work that proved cathartic for the author and will be disturbing, yet important, for readers. This unsettlingly powerful graphic narrative shows how Lindsay has made peace with her parents and the medical establishment-and also found creative fulfillment far from corporate America."—Kirkus (Starred Review)

"No one who reads RX could conclude that Lindsay's path has been easy. Rather, they are likely to be shaken and softened by her story, and grateful for a narrator so sharply fierce, original and human."—Seven Days

"The phenomenon of mental decay is presented in such a blazingly clear and coherent way in Lindsay's book that I can't get it out of my head. For anyone with an affection for comics and an interest in ailments of the mind, RX is required reading."—Vulture

"RX serves as an impromptu instruction manual for people with bipolar disorder, friends and family of people with bipolar disorder, and anyone beholden to prescription drugs to keep them functional. It even manages to be funny. In fact, my only wish is that it were longer."—Bust Magazine

"In simple, sketchy linework, Lindsay's snappy graphic memoir depicts the manic days in 2011 when she was hospitalized against her will. . . Lindsay drew her experiences--driven and determined even in the swirling cloud of her illness to create, resulting in this illuminated account of self-discovery."—Publisher's Weekly

"Lindsay's brash, broadly cartoony drawing style might seem inappropriate for the severity of the disease, but it reflects her exaggerated emotions, imparting a visceral intensity to her mania. Lindsay's courageous work is a fitting companion piece to Ellen Forney's account of her bipolar disorder, Marbles (2012)."—Booklist

"RX is a candid and heartfelt graphic memoir that looks at the struggle to stay sane in an overly medicated world."—Shelf Awareness

"RXis an essential read for those willing to explore the intersection of creativity and mental illness in its most day-to-day and least abstract aspects."—Hyperallergic.com
Grand Central Publishing, 9781455598540, 256pp.
Publication Date: September 4, 2018
About the Author
Rachel Lindsay is a Burlington, Vermont-based cartoonist. She is the creator of the comic strip Rachel Lives Here Now (2013-present), which appears weekly in Seven Days. She is a graduate of Columbia University. This is her first book.
or
Not Currently Available for Direct Purchase