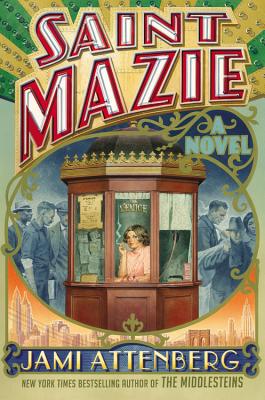 Saint Mazie
A Novel
Hardcover

* Individual store prices may vary.
Other Editions of This Title:
Digital Audiobook (6/1/2015)
Paperback (6/14/2016)
CD-Audio (6/2/2015)
Compact Disc (6/2/2015)
Description
Meet Mazie Phillips: big-hearted and bawdy, she's the truth-telling proprietress of The Venice, the famed New York City movie theater. It's the Jazz Age, with romance and booze aplenty--even when Prohibition kicks in--and Mazie never turns down a night on the town. But her high spirits mask a childhood rooted in poverty, and her diary, always close at hand, holds her dearest secrets.

When the Great Depression hits, Mazie's life is on the brink of transformation. Addicts and bums roam the Bowery; homelessness is rampant. If Mazie won't help them, then who? When she opens the doors of The Venice to those in need, this ticket taking, fun-time girl becomes the beating heart of the Lower East Side, and in defining one neighborhood helps define the city.

Then, more than ninety years after Mazie began her diary, it's discovered by a documentarian in search of a good story. Who was Mazie Phillips, really? A chorus of voices from the past and present fill in some of the mysterious blanks of her adventurous life.

Inspired by the life of a woman who was profiled in Joseph Mitchell's classic Up in the Old Hotel, Saint Mazie is infused with Jami Attenberg's signature wit, bravery, and heart. Mazie's rise to "sainthood"--and her irrepressible spirit--is unforgettable.
Praise For Saint Mazie: A Novel…
"Full of love and drink and dirty sex and nobility.... Attenberg takes Mitchell's witty, colorful piece and spins it into something equally lively and new."—New York Times Book Review

"Tender-hearted and loose-living, Mazie is the unlikely guardian angel of New York City's Depression-Era down-and-outs. You'll love this smart, touching novel that brings her world to life."—People

"Boisterous and compassionate."—O Magazine

"Delightful . . . [an] often ebullient tale about the simple pleasures of a working life. . . . Thanks to the wonderful Jami Attenberg (with an assist from the legendary Joseph Mitchell) Mazie does live on, an actual 20th century New York City saint."—NPR

"Attenberg is a nimble and inventive storyteller with a particular knack for getting at the heart of outsized characters. . . . [she] proves her chops as a historical novelist by perfectly capturing Mazie's jazz-age voice, which ranges from clipped and vulgar to melancholy and lyrical. Attenberg also sidesteps many of the pitfalls of the form: no day-by-day plodding through the decades, no unedited research notes masquerading as dialogue. She resists any plot twist or final revelation to provide a tidy psychological explanation for Mazie Phillips-Gordon sainthood."—Washington Post

"[F]resh and witty... SAINT MAZIE looks deep into the spirit of generosity. Jami Attenberg's Mazie lives a very big life in a very small space, turning her darkest experiences into something inspiring."—Wall Street Journal

"Attenberg captures Mazie's voice so vividly you can close the book and still hear her talking. She is a tremendous achievement. ...[A] bold, magnificent book about family, altruism, women and freedom, as well as a love letter to New York and a timely social manifesto for the 21st century."—The Guardian

"Attenberg's style, at turns lyrical and blunt, is a strong match for Mazie. . . .This voice-pleasantly tinged with jazz age argot, refreshingly modern in its honesty, and always intimate-is Attenberg's great achievement in SAINT MAZIE. ...[A] boisterous, deep, provocative book."—Boston Globe

"A winning novel and a lovely tribute to a New Yorker whose only claim to fame is her outsized kindness. Her Mazie is richly imagined and three-dimensional, and in these pages she lives forever."—Los Angeles Times

"Attenberg has an impressive ability to capture unique voices and make these characters authentic and distinctive... the voices in Saint Mazie ring out and linger, bringing to life this specific place and time in New York-and American-history."—Dallas Morning News

"[I]ngeniously constructed.... An attentive character study that also happens to be rich in city lore and period detail, SAINT MAZIE is an edifying, companionable and moving novel."—Kansas City Star

"[Attenberg] nails Mazie's irresistible combination of sweet and seedy, tough and tender."—Miami Herald

"A funny, touching novel."—Vanity Fair

"An exuberant portrait of an unforgettable woman and the city she loves." —BBC.com

"Impressive . . . Attenberg excels at developing Mazie's voice as she grows from an impetuous, witty girl, into a shrewd-yet-selfless character. But the book is largely about the silent tragedies of womanhood, and the different forms love and loneliness can take . . . What Saint Mazie is most concerned with: how to be a human being."—Bust Magazine

"The hugely talented Jami Attenberg, most recently author of The Middlesteins, has built a novel based on an imagined diary of Mazie Phillips, a Bowery movie-theater proprietress."—New York Magazine

"The real-life Mazie first appeared in a 1940 New Yorker profile by Joseph Mitchell and later again in his seminal collection, "Up in the Old Hotel." Now Mazie's latest, and perhaps more powerful incarnation, is in the novel "Saint Mazie" by Jami Attenberg. Here Mazie continues to grab the lapels and hearts of readers - and we are all the more glad for the shake-up she gives us . . . Achieves immortality in the minds and hearts of readers."—Milwaukee Journal Sentinel

"The Middlesteins author Jami Attenberg has traded writing about the Midwest for Jazz Age New York-and, oh, what a glorious swap it is. If you love historical stories with bold language that vividly paint a picture of another era, you'll be so happy to spend your summer days alongside Mazie Phillips, the real-life proprietress of a downtown NYC movie theater called The Venice. Take a peek inside Mazie's diary, and get swept away."—Bustle, "The 17 Best Books of Summer"

"Entertaining . . . A fascinating portrait of early 20th-century New York and of an unlikely champion of the dispossessed."—BookPage

"This follow-up to Attenberg's beloved novel The Middlesteins shares many of that book's hallmarks: unflinching examinations of some of people's more unflattering qualities, compassion for the same, and a clear love and respect for the journeys we all must go on . . . her work has the same sense of bonhomie and joy as did the original 'Saint' Mazie."—The L Magazine, #1 on the "50 Books You'll Want to Read This Spring and Summer" list

"I loved it to pieces . . . Through an incredible cast of voices, Attenberg gives us the story of Mazie Phillips, the bawdy, brassy broad who runs a New York theater from the Jazz Age through Prohibition and into the Great Depression. Mazie never marries but has admirers aplenty, and she grows from party girl into community fixture as she devotes her time to caring for the homeless and hungry. The frame and structure Attenberg gives her story are as interesting as the story itself, and the whole experience is a delight. Highly recommended!"—Rebecca Joines Schinsky, Book Riot

"SAINT MAZIE is a love letter to a New York City that doesn't exist anymore-the gritty, working-class Lower East Side and Coney Island that your grandparents might remember...genuine and relatable."—Condé Nast Traveler

"A raw, boisterous, generous novel with a heroine to match and New York in its soul, Saint Mazie offers proof again that Jami Attenberg is a brilliant, lion-hearted storyteller."—Maggie Shipstead, author of Astonish Me and Seating Arrangements

"With SAINT MAZIE, Jami Attenberg has crafted a tale that is somehow both a love song and a gut punch at once, and will leave you all the better for having read it. When I finished reading, I wanted to start all over again."—Therese Anne Fowler, author of Z: A Novel of Zelda Fitzgerald

"Jami Attenberg is a master at creating complex and compelling characters. She did it with Edie Middlestein of The Middlesteins, and she's done it again with Mazie Phillips-Gordon of SAINT MAZIE. While Mazie is an actual historical figure, in Attenberg's adept hands, she blossoms as a multidimensional woman who helped the down-and-out in New York City during and after the Depression, while stirring up her own mischief and bad behavior. A wonderful and thoughtful read, as relevant then as it is today, SAINT MAZIE is not to be missed."—B.A. Shapiro, New York Times bestselling author of The Art Forger

"SAINT MAZIE is a novel with as much style and moxie as its titular character. I missed Mazie Gordon-Phillips and her family when I was finished reading, but I missed New York, too. By telling this one woman's story, Jami Attenberg has managed to write an ode to New Yorkers of every generation. She is a true poet of the city."—Gabrielle Zevin, author of The Storied Life of A.J. Fikry

"I'd love to be Jami Attenberg for a day to see what she sees. The next best thing is to read the touching, funny, and wise SAINT MAZIE, which is as difficult to categorize as the hard-living, heart-breaking, soul-saving ticket taker it is about."—Charlotte Rogan, author of The Lifeboat

"SAINT MAZIE moves with joy and wonder through the past. This book has such brio, warmth, intelligence and personality it seems a wonder it is made of mere words."—Rebecca Lee, author of Bobcat & Other Stories

"A terrific novel--touching, funny, big-hearted, just like Mazie herself. It's written with great verve and brio, and I loved the way we circle around and then dig deeper into Mazie's life through the multiple voices and sources. It's Mazie herself, though, who shines the brightest, and who lingers on in the mind and heart, a real diamond in the rough." —Monica Ali, author of Brick Lane and Untold Story

"Jami Attenberg is a beautiful, humane, and extremely funny writer, and SAINT MAZIE-the story of a flawed, spiky, golden-hearted, broken-hearted broad, a kind of personification of the Lower East Side of Manhattan in the first years of the 20th century-is a glorious book."—Louisa Young, author of My Dear I Wanted to Tell You

"[A] gorgeous love letter to the city...a compulsively readable tribute to a memorable and heroic New Yorker."—Vulture
Grand Central Publishing, 9781455599899, 336pp.
Publication Date: June 2, 2015
About the Author
Jami Attenberg is the author of a story collection, Instant Love, and four novels: The Kept Man, The Melting Season, and The Middlesteins, which was a finalist for the Los Angeles Times Book Prize for Fiction, and Saint Mazie. She has contributed essays and criticism to the New York Times, Real Simple, Elle, the Washington Post, and many other publications. She lives in Brooklyn, New York.