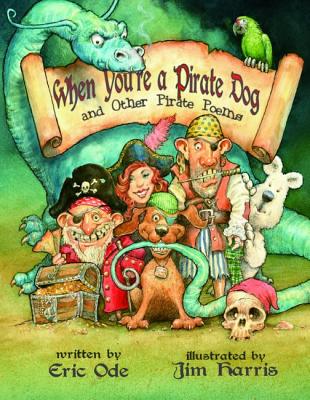 When You're a Pirate Dog and Other Pirate Poems (Hardcover)
Pelican Publishing Company, 9781455614936, 40pp.
Publication Date: February 22, 2012
* Individual store prices may vary.
Description
From the smelliest of pirate dogs to the most unusual fishing exploits ever to take place on the high seas, these pages are filled with poetic explorations of the jolliest pirate crew. Readers of all ages are invited to come on board, wearing their best party hat, to enjoy squid and seaweed cake with fish icing at a very silly birthday party, and sail along on these lively adventures.
With an amusing use of rhythm, repetition, and alliteration, author Eric Ode introduces a bumbling array of scallywags, including Red Eye Jack, the pirate ghost; Jerry, the juggling pirate; and Kraken, beast of the seas. Ode's engaging poems are well matched with Jim Harris's colorful and humorous illustrations, the perfect combination for a rip-roaring journey on the salty seas.