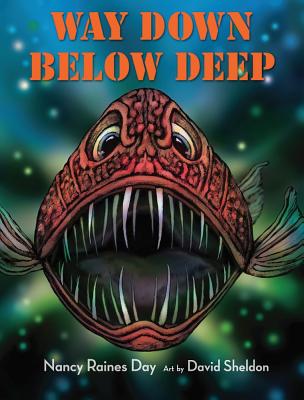 Way Down Below Deep (Hardcover)
Pelican Publishing Company, 9781455619450, 32pp.
Publication Date: September 15, 2014
* Individual store prices may vary.
Description
Far below the jeweled surface of the oceans, deeper than the sun's rays can dive, there are fantastical creatures unlike anything seen on land. Deep currents-cold, black, and full of mystery-are home to secretive fellows such as the anglerfish, which uses light as bait, and vampire squid, whose red eyes peer out from a cloak of spiny tentacles as it "flies" through the water. Down in these depths, whale bones become entire cities where palm worms sway. Abyssal residents come from near and far to visit the pages of this book
Teeming with information, Nancy Raines Day's clever rhymes transport readers to the extraordinary world at the bottom of the sea. How big is a giant squid's eye? What do sea cucumbers eat? Where do bottom dwellers go to get warm? In this aquatic adventure, kids and adults alike will be delighted by what they learn about some of the world's most unique inhabitants. Accompanied by stunning artwork, the strange depths of Earth's oceans have never been closer and more inviting.