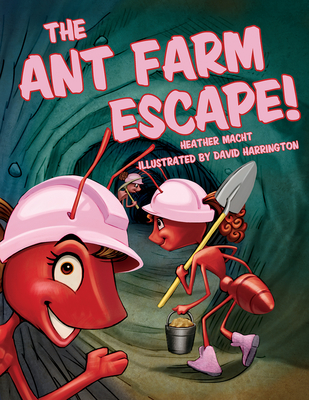 The Ant Farm Escape! (Hardcover)
Pel, 9781455624294, 32pp.
Publication Date: January 17, 2019
* Individual store prices may vary.
Description
"Filled with fantastic fun facts and interesting science tidbits, Macht does a masterful job of weaving STEM into her whimsical picture book. A great addition to any young reader's classroom."
--Jennifer Swanson, award-winning author of
Brain Games
"Heather Macht guides young readers on an underground journey into the world of ants through lively rhyme and fascinating side content. Kids will be amazed by these ingenious excavators and learn a lesson about teamwork too "
--Ellie Peterson, author, illustrator, and science teacher
Tools, teamwork, and smart, well-coiffed girls--of course they go together These mighty girls accessorize with hard hats, tool belts, blueprints, rivet guns, wheelbarrows, shovels, picks, jackhammers, and determination in this tale of hard work, collaboration, and outside-of-the-box thinking Explore the inner workings of a lively ant colony as these determined laborers work together under the direction of their leader. An unexpected plot twist gives these tenacious terraformers in pink a surprising new direction for their community. Dynamic illustrations with humorous details fill the pages of this inspiring tale of girl power Fun ant facts are found throughout the book, and the bibliography and author's note will inspire young girls--and boys--to be leaders and thinkers