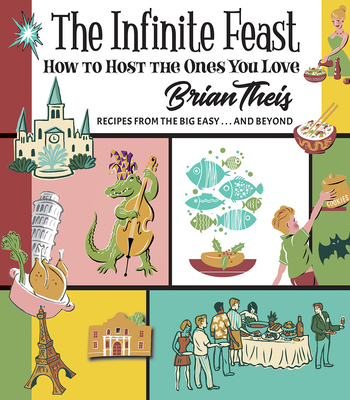 The Infinite Feast
How to Host the Ones You Love
Hardcover

* Individual store prices may vary.
Description
THE INFINITE FEAST is a fun guide to graciously hosting loved ones. Brian Theis does a great job melding his innate Southern Charm with experience gained from travel and time abroad. His book will be a welcome addition to people who enjoy sharing food and drink with friends. - Jacques P pin
Author Brian Theis presents a well-rounded cookbook that takes us back to the mid-twentieth century and the foods that fed the nation's craving for comfort and world travel. In seasonal chapters from New Year's to the winter holidays, he provides curated and themed menus, easy to follow recipes, and kitchen tips. From casseroles and comfort foods, a Mardi Gras Jamboree, and a Polynesian Luau to a Goblin Feast and Thanksgiving Bons Temps Rouler, the dishes are just as delicious as they are picturesque Interviews with celebrity chefs and restaurateurs, including Gabriele Corcos, Billy Oliva, JoAnn Clevenger, and Phillip Lopez, and a tribute to Leah Chase round out the offerings in this gift-worthy cookbook
Pelican Publishing Company, 9781455625130, 224pp.
Publication Date: October 5, 2020