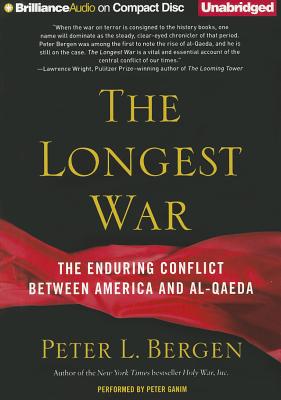 The Longest War
The Enduring Conflict Between America and Al-Qaeda
Compact Disc

* Individual store prices may vary.
Other Editions of This Title:
Paperback (6/28/2011)
MP3 CD (10/11/2016)
Description
Peter Bergen offers a comprehensive history of this war and its evolution, from the strategies devised in the wake of 9/11 to the fighting in Afghanistan, Pakistan, and beyond. He tells the story of this shifting war's failures and successes from the perspectives of both the U.S. and al-Qaeda and its allies. He goes into the homes of al-Qaeda members, rooting into the source of their devotion to terrorist causes, and spends time in the offices of the major players shaping the U.S. strategic efforts in the region. Weaving together internal documents from al-Qaeda and the U.S. offices of counterterrorism, first-person interviews with top-level jihadists and senior Washington officials, along with his own experiences on the ground in the Middle East, Bergen balances the accounts of each side, revealing how al-Qaeda has evolved since 9/11 and the specific ways the U.S. government has responded in the ongoing fight. Bergen also uncovers the strategic errors committed on both sides -- the way that al-Qaeda's bold attack on the U.S. on 9/11 actually undermined its objective and caused the collapse of the Taliban and the destruction of the organization's safe haven in Afghanistan, and how al-Qaeda is actually losing the war of ideas in the Muslim world. The book also shows how the U.S. undermined its moral position in this war with its actions at Guant namo and coercive interrogations. In examining other strategic blunders the U.S. has committed, Bergen offers a scathing critique of the Clinton and Bush administrations' inability to accurately assess and counter the al-Qaeda threat, Bush's deeply misguided reasons for invading Iraq, and the Obama administration's efforts in Afghanistan.
Brilliance Audio, 9781455838950
Publication Date: June 28, 2011
or
Not Currently Available for Direct Purchase