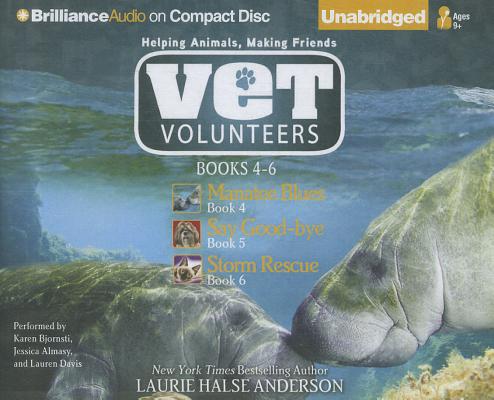 Vet Volunteers, Books 4-6 (Compact Disc)
Manatee Blues/Say Good-Bye/Storm Rescue
Brilliance Audio, 9781455854394
Publication Date: July 1, 2012
Other Editions of This Title:
MP3 CD (7/7/2015)
Compact Disc (3/1/2012)
MP3 CD (3/16/2012)
* Individual store prices may vary.
Description
The Vet Volunteers are a group of ordinary kids with a special job--helping animals at a veterinary clinic From saving puppies in Pennsylvania to helping manatees in Florida, the Vet Volunteers work with all kinds of animals and have great times with their best friends.
Manatee Blues
Mac has brought Brenna, Maggie, and Zoe to Florida to visit her friend Gretchen, a marine biologist who runs a manatee rescue center that's in desperate need of money. Brenna's immediately drawn to the endangered, gentle giants, and wants to do whatever she can to help them--and the center. But is she causing trouble where she wants to help?
Say Good-bye
Yum-Yum is an adorable shih tzu and one of Zoe's favorite clients. When Zoe and Yum-Yum visit a ward of cancer patients, she is amazed by how much joy the tiny dog can spread in an instant. But then Yum-Yum is diagnosed with cancer himself. How can Zoe help the little dog pull through?
Storm Rescue
Sunita Patel is book smart and good with cats. When a hurricane approaches, Sunita realizes that Lucy, a diabetic cat with a broken leg, is in danger, along with her owner, Mrs. Clark. When the vets are called out on emergency, the evacuation starts. Will Sunita be able to save Lucy or will she be a scaredy-cat?
or
Not Currently Available for Direct Purchase