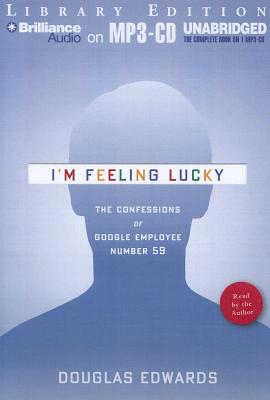 I'm Feeling Lucky: The Confessions of Google Employee Number 59 (MP3 CD)
The Confessions of Google Employee Number 59
Brilliance Audio, 9781455884735
Publication Date: April 3, 2012
* Individual store prices may vary.
or
Not Currently Available for Direct Purchase
Description
Comparing Google to an ordinary business is like comparing a rocket to an Edsel. In its infancy, Google embraced extremes endless days fueled by unlimited free food, nonstop data-based debates, and bloodletting hockey games. The company's fresh-from-grad-school leaders sought more than old notions of success; they wanted to make all the information in the world available to everyone instantly. Google, like the Big Bang, was a singularity an explosive release of raw intelligence and unequaled creative energy and while others have described what Google accomplished, no one has explained how it felt to be a part of it. Until now. Douglas Edwards, employee number 59, offers the first inside view of what it was like to be a Googler. Experience the unnerving mix of camaraderie and competition as Larry Page and Sergey Brin, the company's idiosyncratic young partners, create a famously nonhierarchical structure, fight against conventional wisdom, and race to implement a myriad of new features while coolly burying broken ideas and wounded products. I m Feeling Lucky captures for the first time the self-invented culture of the world's most transformative corporation and offers unique access to the emotions, particularly the tensions, experienced by those who built overnight one of the world's best-known brands.
Advertisement