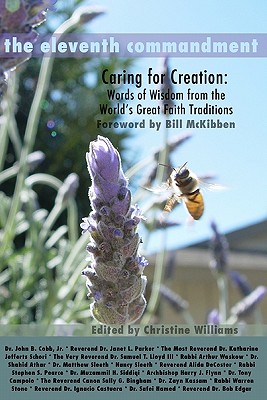 The Eleventh Commandment
Caring for Creation - Words of Wisdom From the World's Great Faith Traditions
Paperback

* Individual store prices may vary.
Description
For all people, and particularly for people of faith, the time is NOW to speak out for the preservation of this beautiful and fragile planet. People of all faith traditions are beginning to hear the call to take better care of the earth, and we must begin to answer with our actions as well as our prayers. This book contains masterful sermons and essays from nationally known and highly respected religious leaders, writers, and scholars. These writings will challenge our denial, complacency, and outright hopelessness (to borrow a theme from Chapter One by Dr. John B. Cobb, Jr.), and ignite the transformational fire within, moving us closer to living in accordance with the values of our professed faith. The reader will make the surprising discovery that the major world religions share common ground in the mandate of our respective scriptures to be faithful stewards of the earth. "The Eleventh Commandment" contains the promise of a new beginning for people of all faith traditions to become a part of the global movement that integrates faith with environmental stewardship.
Createspace Independent Publishing Platform, 9781456307370, 218pp.
Publication Date: February 23, 2011
About the Author
Christine Williams graduated with her Master's Degree in Social Welfare from UCLA. She has worked with children and families for the past thirty years. She is a lifelong United Methodist, but also carries a deep respect for the world's great faith traditions. She lives in Southern California with her three children.