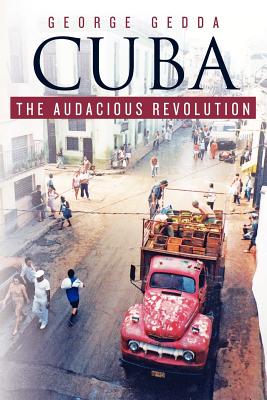 Cuba - The Audacious Revolution (Paperback)
Createspace Independent Publishing Platform, 9781456480226, 362pp.
Publication Date: November 18, 2011
Description
George Gedda, a retired diplomatic correspondent for The Associated Press, has a new book out based largely on his 31 visits to Cuba, all but a few on assignment for AP. "Cuba-The Audacious Revolution" offers a rare close-up look at the struggles of the Cuban people in overcoming the challenges of low pay, substandard housing, malfunctioning public transportation and chronic food shortages. The system that Fidel Castro created provides free health care and education, both laudable goals, but delivery on them often has been uneven, especially since the collapse of his one-time patron, the Soviet Union. As Gedda points out, under the rule of brother Raul, Cuba has become less ideological and more reformist, especially on the economic front. Also, Cubans are freer to speak their minds now than before. As of 2011 there has been little movement toward a more respectful relationship with the United States, the chief bone of contention being the U.S. embargo against Cuba, in place for a half-century though in diluted form. Not content merely to turn Cuba upside down, Castro also saw the replacement of capitalism with socialism as the key to development in the Third World, where he is an admired figure even though his recipes for that vast region have largely been unheeded. What the experts are saying: .."... a great introduction to Cuba...a fascinating, fast-paced, read about a fascinating, vexing country...nobody will be able to gainsay Gedda for his source material or the humanity and sensitivity he brings to the subject ... provides a view of Fidel Castro's Cuba and his audacious revolution that is hard to match by anyone who does not live there." John Maisto, retired U.S. diplomat and three-time U.S. ambassador. "Gedda complements his rich vignettes drawn from his 31 visits to Cuba with well-informed research and considerable knowledge of the wider region to produce an engaging, valuable account." Michael Shifter, president, Inter-American Dialogue, Washington.
Advertisement