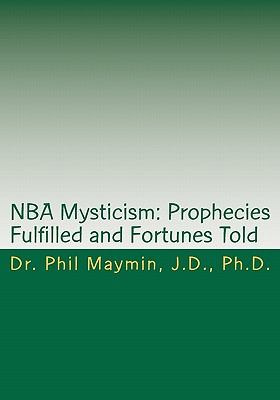 NBA Mysticism
Prophecies Fulfilled and Fortunes Told
Paperback

* Individual store prices may vary.
Description
This is at least two books in one: 1.Prophecies Proved Prescient for the NBA -That the Boston Celtics would draft Al Jefferson at #15 in the 2004 draft (predicted a month ahead of time) -That the Boston Celtics would win the championship in 2008 (predicted four years early) -Who would be a star and who would be a bust today (predicted after the 2004 draft) 2.Telling the NBA's Fortune -How to eliminate the clock-stopping, foul-shooting boredom at the end of close games -How the NBA can increase its revenue and make its fans happier at the same time -How to make basketball timeless and monetize the league's growing archival footage -Why reintroducing barnstorming teams would contribute to the league's global growth -How to make the first three quarters of a game even more exciting And much more, including novel methods of statistical analysis inspired by financial derivatives valuation methods, the flaws and the strengths of the collective bargaining agreement, sports hedge funds, what Bill Russell and Kendrick Perkins have in common, and more. Maybe it is a way to experience the present from the perspective of the past. Or maybe it is the first step in viewing basketball as a religious experience. These articles originally appeared in 2004-2005 on hoopsworld.com.
Createspace Independent Publishing Platform, 9781456502829, 100pp.
Publication Date: January 4, 2011
About the Author
Dr. Phil Maymin is Assistant Professor of Finance and Risk Engineering at NYU-Polytechnic Institute. He is also the founding managing editor of Algorithmic Finance. He holds a Ph.D. in Finance from the University of Chicago, a Master's in Applied Mathematics from Harvard University, and a Bachelor's in Computer Science from Harvard University. He also holds a J.D. from Northwestern California University School of Law and is an attorney at law admitted to practice in California. He has been a portfolio manager at Long-Term Capital Management, Ellington Management Group, and his own hedge fund, Maymin Capital Management. As an editor for Basketball News Services, he was credentialed with the New Jersey Nets, and he wrote hundreds of articles on the NBA for hoopsworld.com. He was the Director of Marketing and Promotions for the inaugural issue of Swish Magazine and he holds a Basketball General Manager and Scouting Certificate from Sports Management Worldwide. He is also an award-winning journalist, a former policy scholar for a free market think tank, a Justice of the Peace, a former Congressional candidate, a columnist for the Fairfield County Weekly and LewRockwell.com, and the author of Yankee Wake Up and Free Your Inner Yankee. He was a finalist for the 2010 Bastiat Prize for Online Journalism. His popular writings have been published in dozens of media outlets ranging from Forbes to the New York Post to American Banker to regional newspapers, and his research has been profiled in dozens more, including USA Today, Boston Globe, NPR, BBC, Guardian (UK), CNBC, Newsweek Poland, Financial Times Deutschland, and others. His research on behavioral and algorithmic finance has appeared in Quantitative Finance, Journal of Wealth Management, and Risk and Decision Analysis, among others, and his textbook Financial Hacking is forthcoming, to be published by World Scientific.