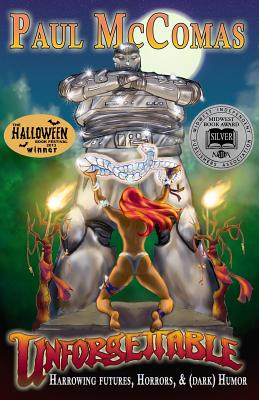 Unforgettable (Paperback)
Harrowing Futures, Horrors, & (Dark) Humor
Createspace Independent Publishing Platform, 9781456566401, 476pp.
Publication Date: January 28, 2011
* Individual store prices may vary.
Description
SECOND PLACE, MIDWEST BOOK AWARDS. Includes TWO sneak previews from Logan's Journey, the first Logan novel in one-third of a century, co-written with Logan's Run author William F. Nolan From aliens to zombies, from prehistoric monsters to monstrously conceived tomorrows, this collection comprises Paul McComas' fifty best speculative-fiction, horror, and dark-comic works -- most of them never before published. You'll encounter "Nessie" and nuclear apocalypse; voodoo and vampires; androids and ax murderers; death curses and dystopias; cognizant, conniving corporations and "Collies in Space" . . . plus ice worlds and werewolves and eels, oh my Ingenious, heartfelt, and always entertaining, Unforgettable is the thinking person's, the feeling person's, and the snickering person's "genre book," all in one -- as well as an eclectic, audacious, ever-surprising celebration of the human imagination. "McComas is a one-man powerhouse, an author-magician, a wizard with words whose range is unlimited; Unforgettable is a stunning performance, a literary tour de force, a wild ride that will leave you breathless. There has never been a book like this. Never." William F. Nolan, author of Logan's Run "It's all here: a fertile imagination, an utter lack of pretension, let-it-all-hang-out honesty, serious purpose, perverse playfulness -- and even fearlessness." Eric Greene, author of "Planet of the Apes" as American Myth, from his Foreword "This compilation is the 'unforgettable' party we all want to attend. Allow host Paul McComas to stretch your mind, make you laugh out loud, and keep you thinking long after you've read the last page." Joy Ward, author of Haint "You'll be hooked, shocked, and amused by this vast, delightful offering from one of our country's most versatile and endearing artists. In short, Unforgettable--is." William Hart, author of Never Fade Away.
About the Author
Paul McComas is the author of three and editor of two critically acclaimed books. His most recent, the comedic coming-of-age novel Planet of the Dates, is in development as a Hollywood feature. Paul performs his work live across the country, teaches in Chicago, and makes award-winning films in Evanston, Illinois, where he lives with his wife, fellow fiction writer Heather McComas.