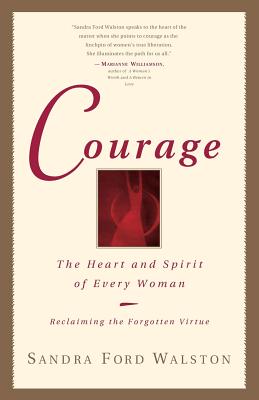 Courage (Paperback)
The Heart and Spirit of Every Woman
Createspace Independent Publishing Platform, 9781456571238, 220pp.
Publication Date: April 23, 2011
Other Editions of This Title:
Paperback (3/1/2000)
* Individual store prices may vary.
Description
Embrace your courageous spirit Why do some women have the courage to develop their full potential, fight injustice, embrace faith, and choose their own path? Are they the exceptional few, or can every woman claim courage to live life on her own terms? Sandra Ford Walston, a nationally renowned international speaker and courage coach, believes that courage is part of every woman's "heart center." By returning to the original definition of courage-the Old French "corage," meaning "heart and spirit"-she shows how this ancient female virtue fits in our world today, and reveals why recognizing ourselves as courageous women is vital to knowing who we are and living life to its fullest. Historically, the virtue of courage and the actions of everyday women have not been validated or honored. Courage modernizes that perspective by offering inspirational stories about how reclaiming courage has changed the lives of many women. Providing a Three-Step Process for Integrating Courage, this book outlines a blueprint for change and growth. Drawing from your forgotten, yet unlimited reservoir of courage, the process teaches you how to design your own action plan. Beginning by looking deep within for patterns of behavior you exhibit every day, you'll learn to - Stop living in the shadow of lost opportunities - Overcome humiliation and confront abuse - Hurdle obstacles and embrace risks - Change your language to change your life - Make conscious choices to live your dream - Raise your daughters to live courageously Sandra Ford Walston is a woman who has embraced her own courage and transformed her life. In "Courage: The Heart and Spirit of Every Woman," Sandra will be your guide as she shows you, your daughters, your friends, and the men who love you how to reclaim your forgotten birthright and live a full, empowered life directly guided by your courageous heart and spirit.
About the Author
Global leader Sandra Ford Walston is known as The Courage Expert and innovator of StuckThinkingTM. She is a human potential consultant, corporate trainer and courage coach. Sandra's expertise allows her to focus on the tricks and traps of the human condition through recognizing and interpreting courage behaviors, courageous leadership and individual personality and leadership styles. As such, she is a sought-after speaker for companies and institutions seeking conscious change through personnel development. The internationally published author of bestseller COURAGE and an honored author selected for Recording for the Blind and Dyslexic, Sandra facilitates individuals and groups to discover the power and inspiration of their everyday courage. Published in magazines such as "Chief Learning Officer," "Training & Development" and "Strategic Finance," she also provides skills-based programs for some of the most respected public and private blue-chip businesses and organizations in the world. "The COURAGE Difference at Work: A Unique Success Guide for Women," Sandra's second book, is directed at any woman, regardless of title or credentials, who wishes to grow professionally by introducing courage actions at work. "FACE IT! 12 Obstacles that Hold You Back on the Job" is not about how to get a job, your credentials or title, but about learning to apply courage techniques to overcome work-related barriers to self-fulfillment. Sandra is qualified to administer and interpret the Myers-Briggs Type Indicator, is a certified Enneagram teacher, and an instructor at the University of Denver Graduate Tax Program. She can be reached at www.sandrawalston.com where she posts a courage blog and free monthly courage newsletter.