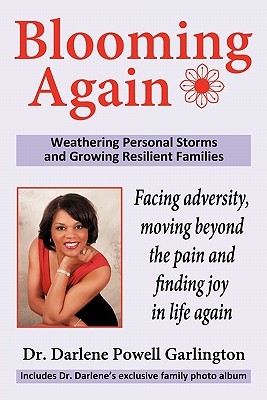 Blooming Again (Hardcover)
Weathering Personal Storms and Growing Resilient Families
Authorhouse, 9781456742126, 312pp.
Publication Date: February 28, 2011
Other Editions of This Title:
Paperback (2/28/2011)
* Individual store prices may vary.
Description
Sometimes hopes, goals and dreams get lost in a mire of anxiety and depression after a traumatic experience. Now, thanks to groundbreaking "Blooming Again," you can strengthen your resiliency and thrive again. Renowned psychologist Darlene Powell Garlington explores the challenges everyone faces in life that lead to feelings of devastation and how to move beyond them. Using provocative self-inventories, her own personal trauma and her private practice experience, Dr. Darlene takes you through the process of building individual, family and community resiliency. Written with sensitivity and practicality, "Blooming Again" addresses the mind, body and spirit interconnectedness and uses an integrative health approach that challenges the reader to explore the sometimes tough, sometimes unspoken questions of the meaning of life during times of pain and suffering. Proven principles, skills and techniques will help you recover, heal and thrive after a crisis through everyday interactions that help you express positive feelings, communicate more effectively, resolve conflicts and rely on God. You will be inspired and motivated to find and fulfill the lesson and purpose for your experience by gaining insight, awareness and understanding, which lead to the courage and self-knowledge it takes to move beyond pain, rebuild a loving family and establish a "new normal" filled with peace and joy again.