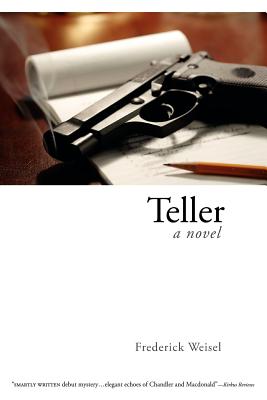 Teller (Paperback)
Dog Ear Publishing, 9781457506376, 292pp.
Publication Date: October 24, 2011
Description
Teller, Frederick Weisel's debut novel, is a compelling literary mystery about a washed-up ghostwriter of celebrity autobiographies, named Charlie Teller, who tries to solve a friend's murder, and recover his own damaged life.



Set in Northern California's wine country, the novel is a fast-paced mystery in which Charlie finds himself the only witness to a friend's murder and is swept up in an investigation. He teams with an ex-Special Forces soldier, named Vincent, to investigate Kenny McDonald, a reclusive coke dealer, who may have had a hand in the killing. But Charlie's in over his head from the start. He quickly becomes the prime suspect in the eyes of the local police detective, Eddie Mahler, and the target of someone who's trying to kill him. If that weren't enough trouble, he's also drawn into a relationship with the beautiful fiancée of the murder victim.



But this is also a mystery with a twist. As he learns the truth of his friend's life, Charlie also tries to make sense of his own past, remembered through his association with his former clients: an aging novelist, a rock musician, an Olympic athlete . . . And he recalls his life through the lens of a series of miniature memoirs, stories of chart-topping success and humiliating failure.



Throughout, Charlie uses the investigative skills from a lifetime of researching autobiographies to piece together the clues to the murder and the lessons learned from the memoirs he's written to try to repair the harm he's left behind over the path of his life.



Teller is a mystery and a surprising novel about the meaning of memoir and the stories we tell ourselves about who we are.


Praise For Teller…
"Biographies are as telling as clues in this smartly written debut mystery set in California wine country. . . . These are strong stories, with thoughtful accounts of the ghostwriter's craft and the hazards of success and failure. . . . Weisel writes with aplomb and has solid grasp of the genre. A keen sense of redemption pervades, along with elegant echoes of Chandler and Macdonald. A sophisticated, literary whodunit that proves lives are harder to solve than crimes."

—Kirkus Reviews


Advertisement