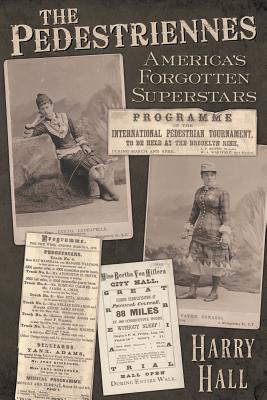 The Pedestriennes (Paperback)
America's Forgotten Superstars
Dog Ear Publishing, 9781457530326, 268pp.
Publication Date: June 26, 2014
Other Editions of This Title:
Hardcover (10/16/2014)
* Individual store prices may vary.
Description
"The Pedestriennes: America's Forgotten Superstars" tells the little-known story of a handful of late 19th century female athletes who dazzled America with their remarkable performances in endurance walking. Frequently performing in front of large raucous crowds, pedestriennes walked on makeshift tracks set-up in reconfi gured theatres and opera houses. Top pedestrennes often earned more money in one week than the average American took home in a year. Newspapers reported on their achievements and interviewed the champions. Their walking outfi ts became fashion plates, their pictures were sold in stores and they made personal appearances as national celebrities. The pedestriennes' exploits reshaped the country's attitudes about what women could accomplish and established the foundation for modern sports, the revival of the Olympic Games and the suffragist movement.
About the Author
In his 20 year writing career, Harry Hall's work has appeared in several publications, including Runner-Triathlete News, Mayborn magazine and The Dallas Morning News. Along the way, Harry interviewed celebrities such as Robin Roberts, Earl Campbell, Jim Courier, and Chuck Norris. He's covered a variety of amateur and professional sporting events, including the Byron Nelson Golf Tournament, US Olympic Track and Field Trials, and the Boston Marathon. A long-time public speaking instructor, he wrote a book on overcoming the fear of public speaking, "Help Everyone is Staring at Me." A one-time syndicated columnist and radio talk show host, Harry was named the Texas Dietetic Association's Media Personality of the Year, and is a member of the Mayborn Author's Guild.
or
Not Currently Available for Direct Purchase