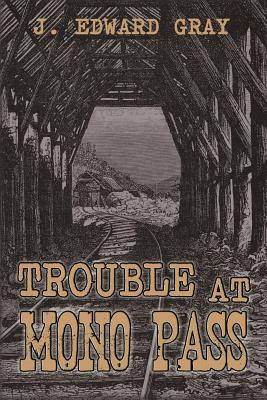 Trouble at Mono Pass
Paperback

* Individual store prices may vary.
Description
Who's the most dangerous of the three? Union Army veteran Jack Grier returns to Carmel Valley seeking redemption.
His brother, former slave owner Richard Grier, schemes to punish his former slave mistress before going to Sacramento, where he is determined to regain the power and the wealth he lost in the Civil War.
Both brothers see each other as the cause of all of life's problems until Joe Crawford leads his gang of murderers and thieves in a daring kidnapping that fi nds Richard's daughter in the wrong place at the wrong time.
Light a match.
Sit back and watch the fi reworks.
Trouble at Mono Pass is the stand-alone sequel to J. Edward Gray's Civil War-era epic New Garden. The sequel opens with the funeral of the brothers' Quaker mother in North Carolina. Both brothers decide to go to California - Jack to try to form a relationship with his child, now sixteen years old, who he left with friends when she was an infant, and Richard to recover the power and wealth he lost during the Civil War.
The Central Pacifi c Railroad's construction of the western leg of the transcontinental railroad serves as the historical backdrop of this story. Richard secures a position as an attorney for the Central Pacifi c. He gathers his family, who lived in Canada during the war, and heads to California.
J. Edward ("Jim") Gray served as a federal tax trial attorney for over 30 years.
That background serves as fodder for this novel's lawyers, principally attorney Richard Grier. Mr. Gray also has hiked extensively in Yosemite National Park and neighboring wilderness, which serve as the Crawford Gang's territory in the dramatic kidnapping segment of this story.
Mr. Gray's writing includes New Garden, the novel in which he introduces the reader to Jack and Richard Grier.
He received his B.A. in history from the University of Virginia and his law degree from the University of Richmond. Mr. Gray lives with his wife in Greensboro, North Carolina.
Dog Ear Publishing, 9781457536021, 292pp.
Publication Date: February 18, 2015
or
Not Currently Available for Direct Purchase