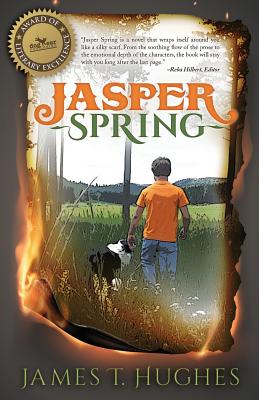 Jasper Spring
Paperback

* Individual store prices may vary.
Description
Young Alice and Tucker are burdened and blessed with a legacy: the care of Jasper Spring, a remarkable valley and still an unspoiled wonder when it comes into their hands. Following two miscarriages, their partnership wavers, then balances on the edge of collapse. Alice's confidence is deeply wounded, yet she still yearns for children, and the unraveling of their love and commitment is mirrored in the eyes of their devoted border collie, Tommie.
Eleven-year-old Ray, a rudely neglected boy from the nearby town, is drawn by the secluded meadows and luscious stream below Jasper Spring and secretly enters the valley on a rusty, oversized bike. Surprised and discovered by Tommie, a border collie, Ray is quickly enchanted. The dog's instinct to gather and hold things together softly engages, and he coaxes the likable boy into the couple's home. Alice offers food to their skittish guest. Everyone is hungry, and a fragile family begins to form.
Alice, Tucker, Ray, and Tommie soon find themselves in a battle for survival as suffocating drought descends and the threat of fire looms. But the greatest threat to all is the boy's young, sultry, and impetuous mother...
Based on true events, Jasper Spring is a lyrical debut novel that swells with the natural beauty of the valley and the emotional force of the characters--their love, their loss, and their triumphs.
About the Author
James Hughes was raised along West Plum Creek, Colorado, where his passion for the natural world and the fine arts grew. Jim became known for his bronze work and metal sculptures. When he was 29 he moved to a homestead in the Black Hills of South Dakota, now the home for his heart. He resides with his wife and son, Pam and Tyler. Jim built his house, barn, and sawmill; debarked his own logs and made the gravel for the roads. He also enjoys training border collies--the eyes, the backbone, and the livelihood of the ranch. They watch him constantly and are ready to work at the slightest notice.
Dog Ear Publishing, 9781457550010, 408pp.
Publication Date: November 1, 2016
or
Not Currently Available for Direct Purchase