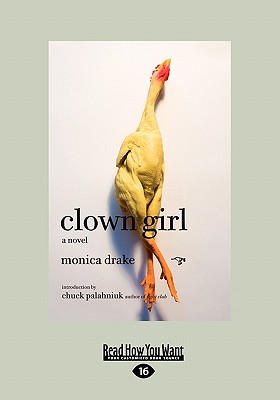 Clown Girl (Paperback, Large Print)
ReadHowYouWant, 9781458725387, 460pp.
Publication Date: January 6, 2011
Other Editions of This Title:
Paperback (1/4/2007)
* Individual store prices may vary.
Description
IN THIS DARKLY COMIC NOVEL, Clown Girl lives in Baloneytown, a neighborhood so run down and penniless that drugs, balloon animals and even rubber chickens contribute to the local currency. Against a backdrop of petty crime, Clown Girl struggles to find her place in the world of high art; she has dreams of greatness and calls on the masters, Charlie Chaplin, Kafka and da Vinci for inspiration. But all is not art in her life: in an effort to support herself and her under-employed performance-artist boyfriend, she is drawn into the world of paying jobs, and finds herself unwittingly turned into a "corporate clown," trapped in a cycle of meaningless, high paid gigs which veer dangerously close, then closer to prostitution. Using the lens of clown life to illuminate a struggle between artistic integrity and an economic reality, Monica Drake has created a novel that embraces the high comedy of early film stars -- most notably Chaplin and W.C. Fields. At the same time Drake manages to raise questions about issues of class, gender, economics and prejudice.