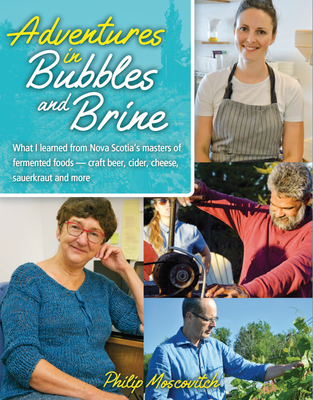 Adventures in Bubbles and Brine (Paperback)
East Coast Practitioners of Fermentation-Based Food and Drink -- From Beer and Wine to Cheese and Sauerkraut
Formac Publishing Company Limited, 9781459505803, 208pp.
Publication Date: September 3, 2019
* Individual store prices may vary.
Description
From wine and beer to bread and cheese: many of our best-loved foods and drinks are the products of fermentation. In Adventures in Bubbles and Brine, fermentation enthusiast Philip Moscovitch takes us on a tour of Nova Scotian ferments, and introduces us to the people who have taken this food trend to heart. Enjoy the fascinating stories from their history and bookmark the recipes they share for you to try at home.
Fermenting may be popular now, but its roots in Nova Scotia go back centuries. Early French settlers grew grapes and apples for wine and cider while German immigrants brought their sauerkrautmaking traditions. And now, Nova Scotians are embracing a new wave of flavours, including spicy kimchi, bitter craft beers, artisanal cheeses and the addictively sour taste of kombucha.
Featuring photos, anecdotes and easy-to-follow recipes, Adventures in Bubbles and Brine digs into the origin of these foods, while delving into the science of fermentation and gut health, and tells you everything you need to know to start fermenting safely at home.
About the Author
PHILIP MOSCOVITCH started experimenting with home fermentation more than a decade ago: baking sourdough bread, making wine with fruit from his backyard, brewing kombucha and preserving vegetables. Soon, this passion led him to writing about fermentation too. A National Magazine Award finalist and a graduate of Master's in Creative Non-Fiction from the University of King's College, Philip has appeared often on CBC Radio and is a regular contributor to Saltscapes and Halifax Magazine. He lives with his family in Glen Margaret, near Halifax.
or
Not Currently Available for Direct Purchase