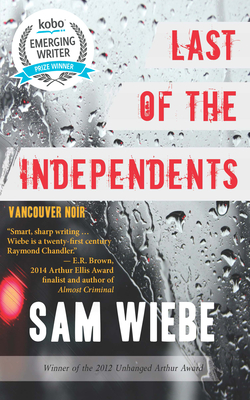 Last of the Independents
Vancouver Noir
Paperback

* Individual store prices may vary.
Description
2015 Kobo Emerging Writer's -- Winner, Fiction
2015 Arthur Ellis Award -- Nominated, Best First Novel
2012 Unhanged Arthur Award -- Winner, Best Unpublished First Crime Novel

What do a necrophile, a missing boy, and an unsavoury P.I. have in common? Private detective Michael Drayton is about to find out....

Twenty-nine-year-old Michael Drayton runs a private investigation agency in Vancouver that specializes in missing persons -- only, as Mike has discovered, some missing people stay with you. Still haunted by the unsolved disappearance of a young girl, Mike is hired to find the vanished son of a local junk merchant. However, he quickly discovers that the case has been damaged by a crooked private eye and dismissed by a disinterested justice system. Worse, the only viable lead involves a drug-addicted car thief with gang connections.

As the stakes rise, Mike attempts to balance his search for the junk merchant's son with a more profitable case involving a necrophile and a funeral home, while simultaneously struggling to keep a disreputable psychic from bilking the mother of a missing girl.
Dundurn Press, 9781459709485, 336pp.
Publication Date: September 23, 2014
About the Author
Sam Wiebe's Last of the Independents won the 2012 Unhanged Arthur Award for Best Unpublished First Novel. His crime fiction has been published internationally. Recent projects include audio adaptations of Hamlet and Frankenstein, an independent film script, and a follow-up novel. He lives in Vancouver.