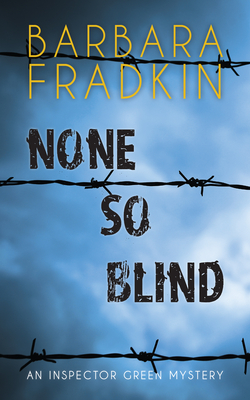 None So Blind (Inspector Green Mystery #10) (Paperback)
Dundurn Group, 9781459721401, 384pp.
Publication Date: November 11, 2014
* Individual store prices may vary.
Description
Did Inspector Green put the wrong man behind bars?


Twenty years ago, a raw and impressionable Detective Michael Green helped convict a young professor for the murder of an attractive co-ed. From behind bars, the man continued to hound Green with letters protesting his innocence. Shortly after being paroled, he is found dead. Is it suicide? Revenge? Or had Green made the biggest mistake of his career -- a mistake which cost an innocent man his liberty and ultimately his life? To determine the truth, Green is forced to re-examine old evidence and open up old wounds to stare down a far greater evil hiding in plain sight.
Nominated for the 2015 Arthur Ellis Award for Best Novel
About the Author
Barbara Fradkin is a retired psychologist who is fascinated with why people turn bad. She has written numerous short stories and novellas as well as the critically-acclaimed Inspector Green novels. Two of these, Fifth Son and Honour Among Men, have won the Arthur Ellis Award for Best Novel. She currently lives in Ottawa.