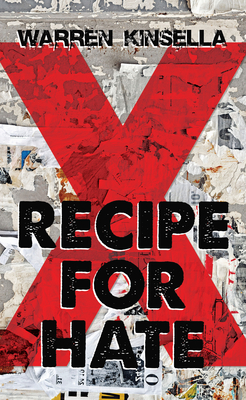 Recipe for Hate (Paperback)
Dundurn Group, 9781459739062, 304pp.
Publication Date: December 5, 2017
Description
How a group of Portland, Maine, punks defeated a murderous gang of neo-Nazis.

The X Gang is a group of punks led by the scarred, silent, and mostly unreadable Christopher X. His best friend, Kurt Blank, is a hulking and talented punk guitarist living in the closet. Sisters Patti and Betty Upchuck form the core of the feminist Punk Rock Virgins band, and are the closest to X and Kurt. Assorted hangers-on and young upstarts fill out the X Gang's orbit: the Hot Nasties, the Social Blemishes, and even the legendary Joe Strummer of the Clash. Together, they've all but taken over Gary's, an old biker bar. Then over one dark weekend, a bloody crime nearly brings it all to an end.

Based on real events, Warren Kinsella tells the story of the X Gang's punk lives -- the community hall gigs, the antiracism rallies, the fanzines and poetry and art, and what happened after the brutal murders of two of their friends.
About the Author
Warren Kinsella is an author, musician, lawyer, and political consultant. His previous books include Unholy Alliances, the national bestseller Web of Hate, the bestselling novel Party Favours, Kicking Ass in Canadian Politics, and Fury's Hour: A (Sort-of) Punk Manifesto. Warren plays bass in a punk rock group called SFH and runs the popular blog The War Room. He lives in Toronto.
Advertisement