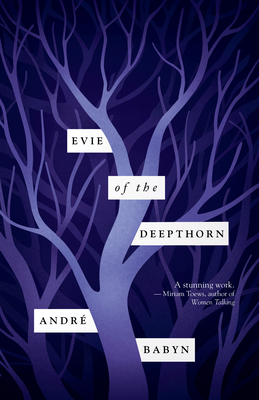 Evie of the Deepthorn (Paperback)
Dundurn Group, 9781459745575, 328pp.
Publication Date: March 3, 2020
* Individual store prices may vary.
Description
A deeply affecting and daring novel about small towns, art, and loneliness.

"A gorgeous, urgent, nonlinear exploration of loss, belonging, rage, and connection, Evie of the Deepthorn announces Andr? Babyn as an unmissable talent." -- Grace O'Connell

What is Evie of the Deepthorn?

It's a cult Canadian movie that Kent looks to for inspiration as he struggles to understand the death of his brother. It's a fantasy novel that Sarah wrestles with as she navigates a traumatic childhood and comes to terms with her failures as an adult. It's a poem that motivates Reza to go on a pilgrimage from which he will not return unscathed.

Shifting and sometimes contradictory, Evie of the Deepthorn is about the search for answers -- and escape.
About the Author
Andr? Babyn has an M.A. in Creative Writing from the University of Toronto. His short fiction has appeared in Maisonneuve, the Fanzine, Hobart, Grain, and elsewhere. He lives in Toronto.