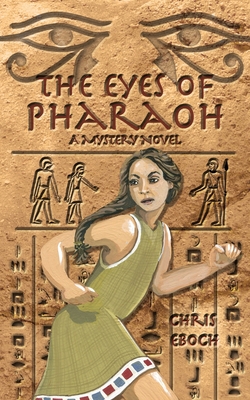 The Eyes of Pharaoh: A Mystery in Ancient Egypt (Paperback)
A Mystery in Ancient Egypt
Createspace Independent Publishing Platform, 9781460959435, 158pp.
Publication Date: March 10, 2011
* Individual store prices may vary.
or
Not Currently Available for Direct Purchase
About the Author
Chris Eboch writes fiction and nonfiction for all ages, with several novels for ages nine and up. The Eyes of Pharaoh is an action-packed mystery set in ancient Egypt. The Genie's Gift is an Arabian Nights-inspired fantasy adventure. In The Well of Sacrifice, a Mayan girl in ninth-century Guatemala rebels against the High Priest who sacrifices anyone challenging his power. The Haunted series, which starts with The Ghost on the Stairs, follows a brother and sister who travel with their parents' ghost hunter TV show and try to help the ghosts while keeping their activities secret from meddling grownups. Learn more at www.chriseboch.com or her Amazon page. Chris also writes for adults under the name Kris Bock. Kris Bock writes novels of suspense and romance involving outdoor adventures and Southwestern landscapes. Counterfeits starts a new series about stolen Rembrandt paintings that may be hidden in a small New Mexico art camp. Whispers in the Dark features archaeology and intrigue among ancient Southwest ruins. What We Found is a suspense with romantic elements about a young woman who finds a murder victim in the woods. Rattled follows the hunt for a long-lost treasure in the New Mexico desert. Read excerpts at www.krisbock.com or visit her Amazon page. Chris's book Advanced Plotting is designed for the intermediate and advanced writer. If you struggle with plot or suspect your plotting needs work, this book can help.
Advertisement