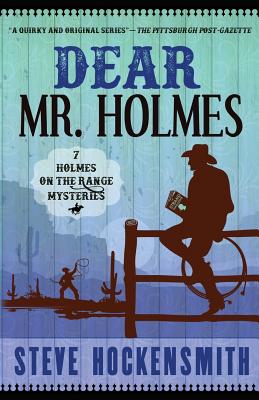 Dear Mr. Holmes (Paperback)
Seven Holmes on the Range Mysteries
Createspace Independent Publishing Platform, 9781461077145, 210pp.
Publication Date: April 12, 2011
* Individual store prices may vary.
Description
Sherlock Holmes-worshiping cowboys Big Red and Old Red Amlingmeyer have starred in six "Holmes on the Range" novels, rustling up award nominations and fans aplenty as they cracked mysteries using the methods of their English hero. How did these Old West drifters first discover Holmes, though? What were they doing before their novel adventures began? And how did their early, awkward stabs at "deducifying" turn out? These seven short stories provide the answers.In "Dear Mr. Holmes," Old Red first gets the itch to turn detective -- and just in time, too, because a killer's stalking him and his brother along a Kansas cattle trail. In "Gustav Amlingmeyer, Holmes of the Range," Old Red's attempt to settle down and open his own "cafay" goes haywire when one of the customers gets a side order of arsenic with his steak and potatoes. In "Wolves in Winter," Big Red and Old Red go up against deadly predators of both the two- and four-legged variety. And the adventure continues in four more stories (most of them originally published in Ellery Queen Mystery Magazine).Critics have called Steve Hockensmith's "Holmes on the Range" tales "hilarious" (Entertainment Weekly), "quirky and original" (The Pittsburgh Post-Gazette), "clever" (The New York Times), "wonderfully entertaining" (Booklist) and "a hoot" (The Washington Post). There's only one way to find out if you agree. Order your copy of Dear Mr. Holmes today.
About the Author
Steve Hockensmith is the author of the "Holmes on the Range" mysteries starring Sherlock Holmes-loving cowboys "Big Red" and "Old Red" Amlingmeyer. The first book in the series was a finalist for the Edgar, Shamus, Anthony and Dilys Awards, and the fourth, The Crack in the Lens, was a finalist for the Nero. Last year, Hockensmith's novel Pride and Prejudice and Zombies: Dawn of the Dreadfuls managed to slip onto the New York Times extended best-seller list (and irritate a lot of Jane Austen fans in the process). A sequel, Pride and Prejudice and Zombies: Dreadfully Ever After, was published this year. Before turning his attention to novels, Hockensmith was a prolific writer of short fiction. His mystery stories were nominated for nearly every major award in the field (including the Anthony, Shamus, Barry, Macavity and Derringer) and appeared in several year's best anthologies. He is not an egomaniac, not matter what this bio might make you think.