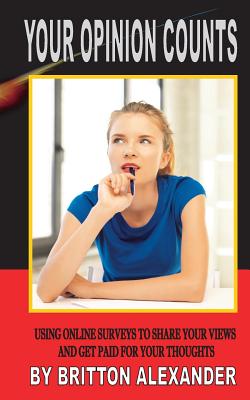 Your Opinion Counts (Paperback)
Using Online Surveys to Share Your Views and Get Paid for Your Thoughts
Createspace Independent Publishing Platform, 9781461112143, 122pp.
Publication Date: April 20, 2011
* Individual store prices may vary.
Description
My name is Britton Alexander and chances are good that in 2009, I was just like you are today. I was working full time, making a huge house payment, and struggling to find ways to get from paycheck to paycheck. On average, from 2006 thru 2010, I spent $2800 a year on bounced check fees. Life is miserable when you feel like you have so much, yet struggle to get by. I decided I was fed up with not being in control of my finances, so I decided to do something about it. No, I didn't find a get rich quick scheme or anything close to it. I found a bunch of little things that I could do online that gradually added up to enough money to quit worrying about bounced checks and late fees. I got my mortgage caught up, completely funded my IRA contribution for the year, and started paying down all my credit card debt. Today I'm on a more financially sound footing then ever before and I want to show you how I did it. One of the things I started doing to earn extra cash was taking online surveys. They were easy, fun, and I GOT PAID. I will take you through the entire process of how to find survey companies that will pay you to take surveys. I'll give you a list places you can go to get surveys as well as show you how to do it... step-by-step. This book covers everything you need to know to get started, get organized, and start making a decent amount of money in the world on online surveys. HERE IS WHAT I WILL SHOW YOU INSIDE -Why companies will pay for your opinion -Tips to make your survey taking experience a success -How to find the best paid survey sites -How much money you can make participating in paid surveys -And a lot more.
or
Not Currently Available for Direct Purchase